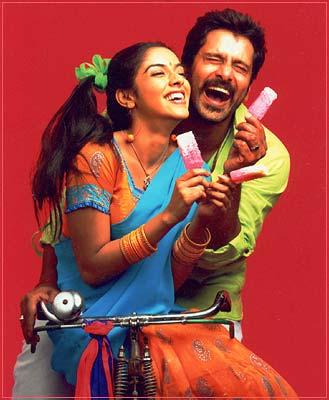 As soon as the shooting of Shankar's Anniyan got over, Tamil actor Vikram moved on to his next project, a remake of a recent Malayalam hit Thommanum Makkalum (Thomman and sons), a Mammootty film. 
Rajan P Dev, who mostly plays the villain, played Thomman. Mammootty and producer-cum-actor Lal played his sons. Shafi directed the action-packed comedy.
Thommanum Makkalum is the story of a father and his two sons, all thieves. This huge hit was Mammootty's third straight success at the box-office. It also showcased him in a different mould, as that of an actor who could dance and do comedy too, which were not considered to be his domain.
It was after going through many scripts, including another Mammootty blockbuster,
Kazhcha,
that
Vikram finally chose
Thommanum Makkalum
as his next.
There was no place for a strong heroine in Thommanum but in Tamil, it is essential to have a top heroine for the top hero. The news that went around initially was that Trisha would be Vikram's heroine but she was busy with Telugu films.
Then, the choice was between the two popular Malayali girls, Nayanthara and Asin. Finally, Asin bagged the role.
Asin, who debuted in Tamil as Jeyam Ravi's heroine in M Kumaran, s/o Mahalakshmi is one of the hottest Tamil heroines now. She has starred opposite all the top heroes, including Vijay, Ajit and Surya.
Thommanum is titled Maja in Tamil, but there's talk that it may change. Shafi is at the helm of the Tamil remake too.
Maja is being planned as a Diwali release.