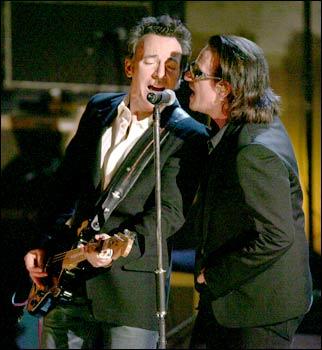 History repeats itself.
In 1999, when Bruce Springsteen was inducted into the Rock and Roll Hall Of Fame, U2 frontman Bono was his presenter.
Therefore, on March 14, at the Waldorf Astoria hotel in New York City, when U2 was inducted into the Hall Of Fame, it was only fitting that the Boss usher in the Irish foursome.
Then the hall-of-famers jammed together in a unique live performance that could only be described as electrifying.
Other 2005 inductees included The Pretenders, Buddy Guy, Percy Sledge, and The O' Jays.
'Uno, dos, tres, catorce,' said Springsteen, quoting the Spanish countdown in U2's recent hit Vertigo, as he inducted the band into the rock hall with a loving, humorous tribute.
'The translation is one, two, three, fourteen. That is the correct math for rock 'n' roll. The whole had better equal a lot more than the sum of its parts or else you're just rubbing two sticks together,' Springsteen added.
Photograph: Getty Images