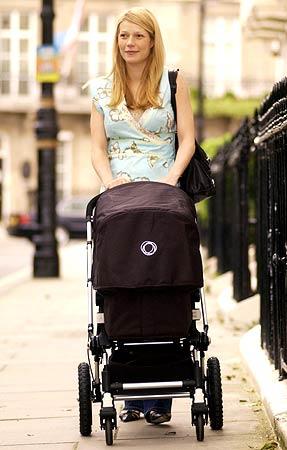 Well, see, they're celebrities.
And real big ones at that. She's an Oscar-winning actress; he is the frontman for one of the biggest pop acts in the world.
Which is why it should come as no suprise that Gwyneth Paltrow and Chris Martin (of Coldplay) have straddled their newborn son with a peculiar name.
After all, they already had a daughter named Apple.
On Monday, Gwyneth gave birth to a healthy baby boy, and the couple announced he will be called Moses.
That's right, Moses Martin it is.
The playground-unfriendly name is apparently a result of a song Martin wrote for Gwynnie a couple of years ago by the same name, with words like 'Like Moses has power over sea, so you've got power over me ... You're a refuge, somewhere I can go. You're air that, air that I can breathe, 'cause you're my golden opportunity.'
Well, rock stars have traditionally always given their kids weird names. David Bowie called his son Zowie (yes, making it Zowie Bowie!); Keith Richards called his daughter Dandelion; Bob Geldof's daughters are called Fifi Trixibelle, Peaches Honeyblossom and Pixie; Frank Zappa's kids are called Moon Unit, Dweezil and Ahmet; and Michael Hutchence named his daughter Heavenly Hiraani Tiger Lily.
But as rock legend Zappa once said, 'People make a lot of fuss about my kids having such supposedly 'strange names', but the fact is that no matter what first names I might have given them, it is the last name that is going to get them in trouble.'
Keep that in mind, Moses.
Photograph: Getty Images