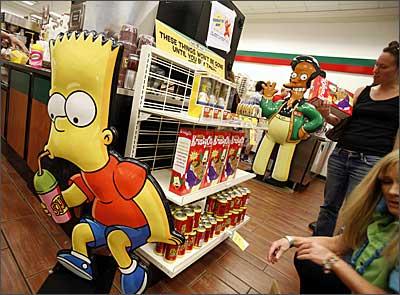 Convenience stores across America just aren't the same.
Or are they?
According to The Simpsons, whose Kwik-E-Mart is an intense parody of the franchise, they all feature unhealthy snack foods and usually an Asian immigrant manager, Apu Nahasapeemapetilon in.
This July sees 7-Eleven stores across the US transformed into Kwik-E-Marts, the chain deciding they can laugh at themselves. Interestingly, the chain is incurring all costs, using the film's promotion to pitch themselves to the audience. Pictured is a shot from the 7-Eleven in Times Square, New York.
So while actors do an Apu, Simpsons-themed products line the shelves, most popular being Buzz Cola and Krusty-O's breakfast cereal, and that familiar pink-and-sprinkles topped donut loved by Police Chief Wiggum. Alas, there is no Duff beer, but the upcoming film is a family film, and both producers Fox and 7-Eleven felt that branding would have to be left out.
The Simpsons Movie hits US theatres on July 27. The film releases in India on August 3.
Photograph: Getty Images