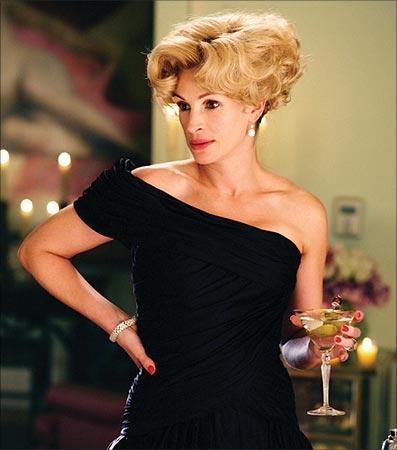 It's been a while since Julia Roberts really got her teeth into a role.
Hollywood's most powerful actress virtually called it a day after Mike Nichols' dark 2004 relationship drama, Closer.
Since then, she's been taking care of her twins, daughter Hazel Patricia and son Phinnaeus Walter. Her third child, son Henry Daniel Moder was born in last June, and Julia's sparsely-updated filmography has included cameos and voicework, but no lead roles.
Finally, she comes back to the screen in Nichols' latest film, Charlie Wilson's War, written by West Wing scribe Aaron Sorkin and starring Tom Hanks and Philip Seymour Hoffman.
The warmly praised film, described by The New York Post's Lou Lumenick as 'A feel-good comedy about a covert US effort to fund resistance to the Soviet invasion of Afghanistan,' features Julia in a powerful supporting role as right-wing Texas socialite Joanne Herring.
With three stars positively soaking in Oscar gold, chances for a Best Supporting Actress nod are high for Roberts.