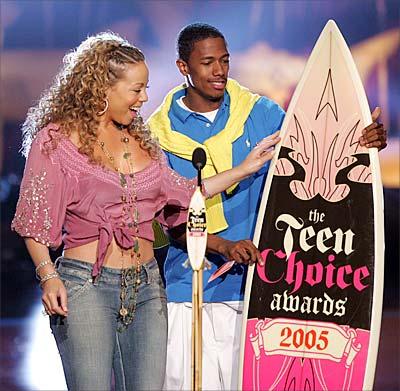 Rumours were right after all, for it has now been confirmed that Mariah Carey and Nick Cannon are indeed married.
Family member Linda Cannon has made the confirmation that the couple is, in fact, wedded.
'Yes, we know. He called us and told us all about it. We are happy for him. If that is what he wants then we are happy for him,' E! Online quoted her, as saying.
Linda Cannon wouldn't confirm an earlier report that the impromptu nuptials had taken place on May 1 at Carey's new home in the Bahamas, only that Nick and his platinum-selling girlfriend have made it official.
'I'm not going to give you any details, but we are happy for him," Cannon said.
Carey was married previously to record executive Tommy Mottola, but they divorced in 1998.
It is Cannon's first marriage.
In the picture: Mariah accepts the Choice Music Love Song award with actor Nick Cannon onstage at the 2005 Teen Choice Awards.
Text: ANI | Photograph: Getty Images