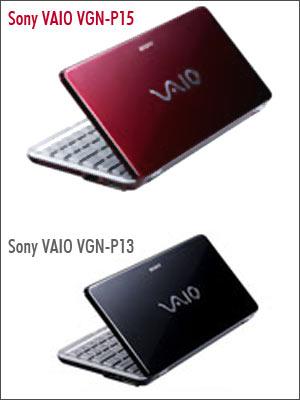 Notebook laptop maker Sony is always on the forefront of innovation. With the Sony VAIO pocketbook, called Sony VAIO P, it has taken a step ahead in the war of mobility-based netbooks.
Launched in two different variants, VGN-P15, available for Rs 64,990 and VGN-P13, available for Rs 49,990, the models can easily fit into your pockets, if you believe the TV commercial it has launched to showcase the device's easy mobility.
Both prices mentioned above are maximum retail price and are inclusive of all taxes.
While the VGN-P15 is available in four different colours (Obsidian Black, Crystal White, Garnet Red and Olivine Green), the VGN-P13 is available only in two colours: Obsidian Black and Crystal White.
With just 19.8 mm thickness that is thinner than a C-sized battery, widthwise it is 120 mm, smaller than your wallet or an air mail envelope; at 245 mm lengthwise, it is smaller than an A4 size paper or a pair of shoes.
What's more, these devices are Wi-Fi as well as Bluetooth enabled.
While the cost of VGN-P15 and VGN-P13 may not be exorbitant the recommended accessories will add to your cost of acquisition.
Given below are some key features of the two models: