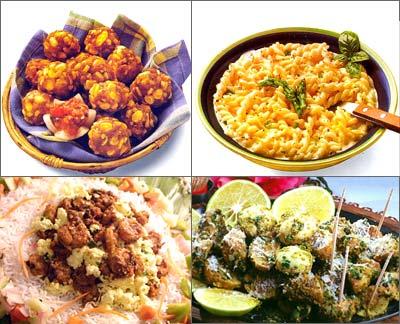 The current economic downturn has all of us tightening our belts and cutting corners wherever possible.
If you've been taking a cab to work, maybe the bus isn't such a bad idea and suddenly your cousin's hand-me-downs don't seem quite so tacky as before -- maybe you can start another retro fad, right?
Everybody is trying to do without a few comforts and luxuries till things start looking upward financially. Which brings us to another little indulgence -- lunchtime at the office.
How many times has it happened that you've sacrificed preparing your lunch in the morning in favour of an extra hour of sleep? And anyway, pizzas and prawn curries delivered to the office certainly beat a small tiffin holding lentils and a few chapattis, don't they?
'Let's do lunch' -- that's the favourite line of young hotshot executives. And we may as well face it, there's an unwritten rule somewhere that it's only the squares who bring in a tiffin to work -- 'cool' colleagues 'do lunch'.
Only now, 'doing lunch' is going to do you in -- suddenly, the 180 bucks you used to spend on a nice little meal at a neighbourhood kiosk is beginning to pinch you. Time to join the ranks of the dabbawallas at work, my friend -- but don't let the thought of preparing your own meals affect your appetite!
There are plenty of neat recipes out there that are delicious, nutritious and can be prepared quickly enough so that you don't have to wake up in the wee hours. Give the conventional dal and rice a miss -- opt for crunchy summer salads, cold cut sandwiches and any other simple, tasty foods that will make lunchtime fun again.
Do you have any quick-fix preparations that you'd like to share with us and other readers? It has to be something appetising and easily whipped up (in under an hour). Simply mail in your tiffin recipe ideas to getahead@rediff.co.in and we'll publish them right here on rediff.com
Channel your inner chef and help people economise without compromising on their meals!