Love happened to me very unexpectedly. I was 25, working in Mumbai as a television journalist, and marriage was nowhere on the agenda for at least the next three to four years.
In March 2003, my mom was diagnosed with a severe illness and life suddenly came to a standstill, as my father, sister and I coped with the fear of losing a loved one.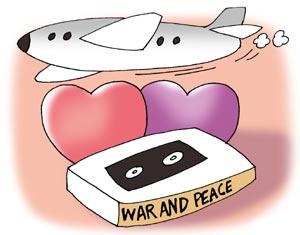 On one of those painful days, my father asked me to consider marriage 'for mom's sake'. "It would be nice if mama could attend at least one of your weddings and see at least one of her daughters settled before she succumbs to her illness," he reasoned. He then suggested that I register myself with a matrimonial web site.
I was not prepared for marriage, period. I had just reached the best phase of my career. However, not having the heart to disappoint my parents, I did register my profile.
 
Being a journalist, I was so sure that it would be tough to find a life partner who could cope with my erratic hours, high stress lifestyle, and the like. Would he be able to give me the freedom required to grow professionally?
In my online profile, I mentioned exactly what I looked for in a partner. It read: "My profession requires me to travel to all sorts of places in tough conditions. Odd timings are a work hazard. But I love my job and the challenges it poses, which is why I want someone who understands what journalism is all about. He should be broad-minded, educated and a self-made man. He must carve his own niche in life and his wife must be his equal."
My friend commented: "No man in his right mind would ever respond to your profile!"
Well, so be it. There were some inquiries but nothing remotely exciting. One day I received an e-mail from a chap called Ron. He was in search of a partner for his friend. But, when he stumbled across my profile, having found it unusual and bold, it immediately perked his interested and he decided to write to me -- for himself. For this, he had to pay up and register with the matrimonial web site.
In his first e-mail he clearly mentioned, "I am not interested in marriage. But I could not resist writing to you. I would definitely like to get to know you better."
His honesty touched me. I got to know that he had passed out of IIT-Mumbai and was working as a software engineer at an MNC in Bangalore. He was also into theatre and was directing a play at that time. When I lived in Delhi, I was into theatre too. That did the trick (though he insists it was the IIT brand, which impressed me more).
We corresponded regularly, but no mushy stuff. We would pick any topic related to current affairs and share our views on the same. After about two weeks of writing to each other, I got an e-mail from Ron: "Merlin, would you consider marrying me? If yes then maybe we should talk on the phone and take this forward."
The thought of marriage was SCARY but with Ron I was ready to give it a shot. I spoke on the phone and he decided to come visit me the next weekend.
I confided in dad about Ron. I told him that he was coming to meet me but I wanted our first meeting to be just us, without any involvement from parents'; the latter would only add to the pressure. Dad agreed.
The night before his flight to Mumbai I wondered what would happen if things worked out. Who would relocate to a new city? After all, we were both thriving professionally in our respective cities.
The good thing is that he did not expect ME to shift. In fact HE was ready to make the move, if that worked better for both of us.
We finally arrived at a solution: if we liked each other and decided to marry, then we both would give ourselves two months -- during this time we would both look for a job in the other city. Whoever gets a better offer would make the move. If things did not work out within two months, we would part ways.
We had not exchanged photographs so I didn't even know what Ron looked like.
We met and he turned out to be tall, dark and handsome with a great sense of humour – a killer combination. Yes, we liked each other in person too. But we decide to stick to the two-month deadline and not be hasty.
Nonetheless, I convinced him to meet my parents. My mom post her operation was recuperating at home in a nightgown with tubes coming out of her sides, amidst visiting relatives. In-between all this chaos, Ron met my family. There were no formalities; no trays of sweets and no dressed up relatives. He looked very much at home.
 
The next day, I went to see him off at the airport. He gave me a CD of a documentary called War and Peace. Handing it over he said, "I want you and my CD back in Bangalore with me". It was a proposal! I left sans a reply. My family was surprised that I did not jump at the offer. Well, I was torn between Mumbai and Bangalore, career and personal life.
Finally Ron agreed to make the move because he wanted to be with me and see me happy. That's when I realised that with him next to me my career would never take a backseat. We tied the knot in December 2003, I took a job transfer and moved to Bangalore and did not lose out on my prestigious position in the organisation.
In the three years we have been married, he has been my pillar of strength and unlike many men, he wants his wife to be accomplished and successful. Today, I have turned entrepreneur with his support.
Inspired by my story many of our single friends followed suit; they also registered themselves with a matrimonial web site to find a suitable match. My suggestions for them and other singles who are looking for love:
Be honest when writing your profile. 
Be VERY clear about what you expect from a partner and mention these details in your profile. 
It is very easy to be swayed and charmed by well-written e-mails. However, take your time and find out as much as possible about the person, before getting emotionally involved.
Confide in your elders; they can guide you if required. 
And last but not the least, listen to your heart, it never betrays.
Are you a career woman/man who is apprehensive about marriage? Have you registered online with a matramonial/dating service? Did you meet your spouse online or through any unsual circumstance? Share your experiences, suggestions and tips.
Tell us all about your love story.
DON'T MISS!
What money taught me about love
Getting married? Ask these questions
How to spice up your relationship
Want to meet your match? Scout here
Illustration: Uttam Ghosh