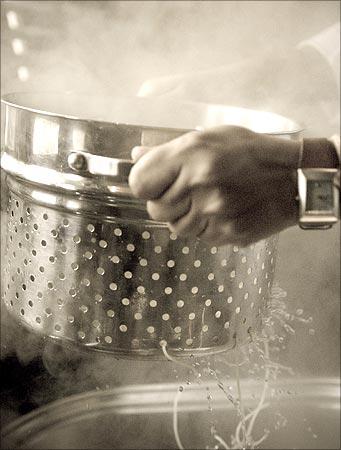 Are you looking for a way to get the kids to eat their veggies? Here's a simple, tasty recipe for cauliflower pasta that won't have the family turning up their noses.
In our continuing series of recipes taken from Italian Khana, an Italian cookbook for the Indian kitchen, Ritu Dalmia, celebrated chef and owner of Diva, one of Delhi's finest Italian restaurants, reveals her best tips and shows you how to cook an authentic Italian dish in 30 minutes or less.
Ritu will also answer reader queries, so scroll down to the bottom of the page to address your questions to her.
Read these features?
Exclusive: Comic book fans, click here!
What if the Sensex falls below 10k? Still invest
Hair styling and strengthening tips from an expert
How the GPS navigation works on your cellphone
Dal Makhani, Prawn Biryani & other video recipes
---
Today's Recipe: Penne alla Loredana (Penne or fusilli with cauliflower)
Now don't wrinkle your nose when you read 'cauliflower' -- actually, even with the simplicity of its ingredients this pasta tastes absolutely delicious.
Ingredients
1 cauliflower
500g penne or fusilli
100g bacon, roughly diced
3 tbsp olive oil
1 clove garlic
Chilli flakes
Parmesan cheese
Method
Cut a medium-sized cauliflower into small florets. Place the florets in a pot with 3 litres of cold water and cook very well until the cauliflower is so soft that you can mash it with a spoon, softer than your regular boiled or steamed cauliflower.
In a small pan, heat 3 tablespoons of olive oil and add a small red chilli and 2 cloves of garlic. Fry on a slow fire until the garlic is golden, then discard the garlic. Add the bacon to the pan and fry for about 2 minutes.
Cook the pasta in boiling, salted water. Strain, leaving a bit of water in the pasta. Add the cooked pasta with its water to the cauliflower, and cook together for a minute.
Add the fried bacon with its oil, and grated Parmesan. Mix well, and leave to rest for 3-4 minutes, so that the pasta can absorb the flavours of the cheese, bacon and sauce. Buon appetito!
Previous recipes
Excerpted from Italian Khana, India's first Italian cookbook for the Indian kitchen, with permission from the publishers,Random House India. Ritu will also answer reader queries, so please address your questions to her in the QnA box below.
Photograph: Sephi Bergerson