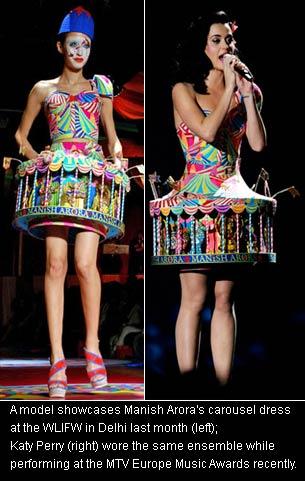 American popstar Katy Perry wore a Manish Arora creation while performing MTV Europe Music Awards recently.
The dress was from the Circus Collection (inspired by the Bollywood classic Mera Naam Joker) showcased by the designer at the Wills Lifestyle India Fashion Week (Spring/ Summer 2009) in Delhi last month.
Here, the designer himself fills us in on how and why Katy chose his funky fashion.
On how it came about that popstar Katy Perry chose to wear an ensemble from his collection:
"Katy Perry was at my show in Paris and she loved the collection so much so that she called my press office and stylist asking for some of the looks. And the rest is history -- she wore this particular outfit to the MTV EMAs and did full justice to the dress, she looked great."
On working with celebs:
"This is not the first time I've worked with a celebrity, I've created garments for Steven Tyler (lead singer of Aerosmith), Anoushka Shankar, Preity Zinta and Katrina Kaif, to name a few. I don't have any one favourite person I like working with, because I simply love designing."
On the wearability of his designs:
"Yes, they are an expression of my creativity and all my garments are made to be worn, where and how now that depends on the person and occasion."
On the fact that in an online poll, readers voted Katy as looking the best in his creation, beating out four other outfits she also wore during the course of the evening:
"No, this is the first I am hearing of it and I am happy and thankful for it."
Photographs: Manish Sharma (left) | Jo Hale/ Getty Images
Also see: In the spotlight: Indian bombshells