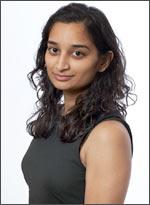 A man of colour goes to a street corner in Seattle to meet his friends and mourn his murdered brother. The police arrest him and charge him with the violation of a ban order. Anita Khandelwal, the Yale educated lawyer who would have the charges dismissed, recalls the incident, adding that Seattle police routinely issue 'banishment' tickets, often at the behest of shop owners.
Khandelwal, a recently named George Soros Justice Fellow, says trespass charges are an increasingly prominent feature of urban policing, used largely against people of colour and the homeless.
"These charges threaten the meaning of citizenship and community in American cities," she adds.
The Soros Justice Fellowships funds accomplished lawyers and advocates to implement innovative projects that reform the United States criminal justice system. The fellowships fetch for each awardee $70,000 (approximately Rs 33,27,000) to $100,000 (approximately Rs 47,50,000) for 18 months. About a dozen get the fellowships each year.
Khandelwal, an attorney with the Defender Association started in 1969, says the fellowship will help her file public information requests for trespass protocols followed by the police and also study similar procedure in other cities.
"A thorough understanding of the policies and protocols will position me to educate local leaders," she says, "and eventually policymakers across the nation, about the need to change the practice of banning."
She continues the interview as she gets ready to go to court to represent another homeless client. "I am not saying that the police deliberately set themselves to make life difficult for the indigent or homeless," she says. "While I will be using the fellowship to study more of this sad phenomenon and the ways to redress it, I will also remember that often a dialogue with the officials helps."
She has many clients who have been banned from public spaces or public premises and face substantial jail time because they have violated the bans.
"Often, they are banned from zones where the defendant or her family reside or where she needs to go to access social services or public transportation," Khandelwal says. "Each time a client enters into a space from which she has been excluded, she is subject to arrest and, if convicted, must serve time in jail."
Khandelwal has been a public defender for a year.
"In court, I try to get the best outcome for my clients," she says. "I take cases to trial if my client wants -- that's my favorite part of the job. If my client does not want to fight, I try to get the best deal possible through a plea bargain."
An important part of her work as a Soros fellow involves community outreach.
'I intend to work with homeless advocates,' she wrote in her application 'to ensure that homeless individuals understand the unconstitutionality of the police officers' summary banning practices and to urge them not to plead guilty when charged -- the effects of a criminal conviction are long-lasting and often devastating. My work with advocates for youth of colour will be more complicated. Because some of these advocates believe that trespass laws protect their constituencies, I will need to work gently to show that many of the youth actually affected are young people they can identify with and would not want targeted. In response to discussions with these advocates, I will work with them to identify constructive responses to safety concerns while diminishing support for police banning. The intended result would be to mobilise a broad base of support for restricting police banning through legislation or policy change.'
Khandelwal, 32, was not going to be a lawyer when she began her university studies. "Initially I was studying towards a PhD (to) be an academic," she says. "I have enormous respect for academics but I was drawn more into social activism and law."
At the Yale Law School, she was the co-chair of collective of Women of Color, a founder and chair of the Yale Law Women Activism Committee, and participated in the Workers' Rights Project. She also interned at the American Civil Liberties Union's Drug Law Reform Project, the ACLU Reproductive Rights Project, and the Economic Justice Project at the Brennan Center. Khandelwal was a Relman Civil Rights Fellow.
"I studied South Asian history and one area I paid keen attention to was how the law was used to suppress the underprivileged but I also studied how the law was used to empower them," says Khandelwal, who graduated cum laude in anthropology and history from Yale in 1998 and received her MA in anthropology in 2002 from Columbia University.
"Mahatma Gandhi was an inspiration and made me think of becoming an activist lawyer," she adds. "He was a lawyer too."
Her parents' immigrant life inspired her activism.
"They had to face a lot of struggles as immigrants," she reflects. "My father worked as an accountant before starting his business. My mother works as a lab technician; she used to work in a factory that assembles electronics but worked her way into the lab, where she assembles prototypes which are later mass produced."
"My parents," she continues, "had some support from Indian friends and the community. Whereas I saw many poor people in America, many of them being people of colour, who had no resources or help."
Did her parents want her to follow this career?
"They wanted me to be in any profession that offered decent money and security and satisfaction," she says. "When I told my parents I was going into law, they must have felt happy, thinking I will be making good money as a lawyer than being an academic," she adds with a chuckle. "But I went into being a public defender. I am not exactly making a lot of money but I can lead a decent and fulfilling life. My brother, who is a hedge fund manager in New York, told my parents something like, 'I am doing pretty well. Let her do what she likes.'"