Thirty-six-year-old
Simanta Sharma
is a medical graduate and a management postgraduate. Always interested in the domain of healthcare, he moved out of his hometown of Guwahati to work with big names like Ranbaxy, Boston Scientific, O&M and Medtronic amongst others.
However, ever since medical school, Sharma knew he wanted to branch out on his own. Today, with 12 years of experience behind him, he finally has, and is the MD and CEO of bolohealth.com.
Here, he speaks with Insiyah Vahanvaty about the road that led him to realise his dream and his plans for the future.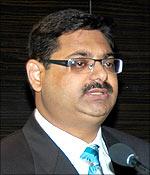 My background and career: My father and two brothers are surgeons, so I guess healthcare runs in the family. My sister, mother and one brother are not involved in the medical profession, though. However, ever since I was in the third year of medical school, I knew I had a strong entrepreneurial streak, and wanted to start something of my own. But the time wasn't right then, and I decided to work for a while before attempting to start off on my own.
So I studied medicine in Assam, and then worked as a resident doctor in one of the hospitals there. About a year later I got the opportunity to go abroad to North Africa to practice as a doctor. After a few years there, I came back to India and started working with Ranbaxy as a medical marketing executive. At this time, what was also happening was that the medical exams in Guwahati were deferred because of the insurgency, which is why I applied to Ranbaxy, actually. The job took me to Mumbai, where I've been since then.
After Ranbaxy, I worked with Boston Scientific Corporation. However, BSC shut down after a while, so I moved to O&M, which was a totally different experience for me. I had been offered the job because I had worked very closely with them during my time with BSC, and we had developed a relationship. However, I longed to get back to the world of medicine and health, so I joined a medical devices player called Medtronic.
My journey with Medtronic would have continued, had it not been for a chance meeting with a gentleman on an airplane. We got chatting and I told him about my concept. He asked me to share my plan with him, which I did, and to my surprise he turned out to be one of the advisors of www.webmd.com which is the world's biggest health and wellness portal. Soon, he agreed to be the investor for this project of bolohealth.com. So, I quit my job and started work on the website, which we have finally launched now, about 15 days ago. During my time at BSC, I came to realise that public awareness and knowledge about health and wellness was really low, so that's when the idea of bolohealth started germinating. We froze the name because it's user-friendly and easy to remember. Also we wanted to bring the concept of health down to the common man's level and demystify it.
Bolohealth is India's first health and wellness portal that is also a social networking site. So in a way, it's a Facebook/Orkut for medical and health enthusiasts. Anyone can log in and get expert advice for free. Also, everyday health issues are explained in innovative ways, like polls and quizzes. It also provides information like, say, for instance, in the middle of the night you need medicines, you can log on and check which chemist closest to your house will be open, and whether they deliver. We also have a panel of experts that give information and advice for free.
Challenges I've faced: The biggest one was getting the team together since there aren't many people around who can write on the genre on health. So content creation was one challenge we faced. Thankfully we found some really smart people who had the right expertise.
Then, many people, including experts were highly skeptical and unconvinced about the concept, so convincing them was a huge task.
And of course, being a startup, we're always short of resources. Every paise matters to us. We do miss the benefits of a full fledged campaign -- hoardings and advertisements, etc, but the truth is that we can't afford them.
My take on success: One needs to persevere and not get bogged down by disappointments. You need to realise that there will be bad days, but you can't give up on your dream. I have tried dozens of ways to get funding before it actually happened. So the trick is not to give up.
Advice for young professionals: There is no shortcut -- you have to sweat it out. And don't give up!
Balancing work and personal life: I don't think I do a very good job (laughs). I never get home before 11 pm and work even on Sundays. But I have a three-year-old son who is my biggest stress-buster and I try and spend some time everyday with him.
I love quizzing and used to be a very active quizzer. In my free time, I like to travel and see new places and cultures. I also love music, reading and food…which probably shows (laughs). It's hard trying to keep a balance when you're working on a startup.
Future plans: To make bolohealth the most valued and credible health and wellness portal in India. I feel the need to give something back to society, and I'm trying to do it through bolohealth. Though, I might find another way someday.