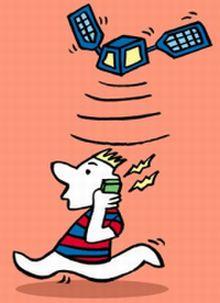 Did you know that your cellphone usage provides valuable insights into the status of your relationships with other people?
A recent study organised by the famed MIT (Massachusetts Institute of Technology) rated 94 individuals on the basis of their phone use to rate their friends, acquaintances, conversational habits and even job satisfaction.
If you were to take an objective view of your cellphone use, what would it say about you?
Do you rate the friend you're always promising to meet up with and then ditching as a friend or an acquaintance?
How much time do you spend gossiping about other people?
Do you consider your colleagues friends?
Do you make friends for life? Are you in touch with people you used to know back in school and from ex-offices?
A little bit of self-reflection never hurt anyone, so we're asking you to judge yourself based on your cellphone use. Even funny and interesting experiences or anecdotes are welcome. Simply post your comments on the messageboard below.
Illustration: Uttam Ghosh