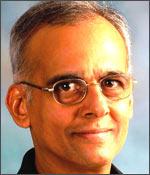 Andrologist and microsurgeon Dr Sudhakar Krishnamurti will be responding to rediff readers' sexual queries on a regular basis.
We invited Get Ahead readers to mail in their questions. Here is the next set of responses:
---
Hi,
We are just a newly married couple. While having intercourse my partner normally gets tired soon. What could be the reason? Is it normal or something to be taken care of? And on my side I sometimes find it difficult to maintain an erection throughout the process if I involve foreplay. What should I do?
Regards
It's hard to tell what exactly is making your partner tired. There could be a variety of reasons, including psychological ones, a disinterest in sex, frustration at trying to better a non-happening sexual encounter, exasperation at the partner's ineptitude, and so on. Sometimes there may be real medical reasons that'll require evaluation.
Erection sustenance is not as easy and 'automatic' as many imagine. A simple shift in attention or lapse in concentration can deflate a penis. Foreplay too can affect erection. If it's the partner that's giving you the foreplay, it might not be of the right kind. If it's you who's pleasuring the partner with foreplay, surely, your penis is not getting the attention that it also needs, and is wont to lose the erection.
---
Hello Dr. Sudhakar,
My name is Amit and I am 27 years old. During the last 3-4 years I have been having pain in my right testicle. I didn't go to the doctor because I am afraid. However, when I actually touch my right testicle, I feel that it's the veins behind it that are paining. They have also swelled more than normal and have a burning sensation at times. My right testicle looks bigger than my left testicle. I also feel a burning sensation and sometimes pain in my anus. I masturbate regularly. Please advice doctor, what can this problem be? And what should I do about it? I am afraid like hell now as the pain has not gone since a long time...Please, please, please do reply.
Regards,
Amit
What you have in your right 'testicle' (scrotum, actually) seems like it could well be a varicocoele, but other infections/inflammations of the testis/epididymis/other spermatic cord structures also need to be ruled out. The burning and pain in your anus is most likely a separate pathology. It could be a fissure, infection, or a worm infestation. You certainly can't just sit at home and hope to get cured by writing to columns such as this one, which can, at best be good pointers. You might want to start by scheduling an appointment with an andrologist.
---
hi Dr Sudhakar Krishnamurti,
I am madhu, my problem is whenever I am trying to have sex with my wife, there is no penetration. We use xylocaine cream and my wife underwent a perinotamy, but it's no use, she get lots of pain whenever I try to penetrate. She also has severe dysporia. What is the solution, please guide me in this. And one more important thing, I have diabetes. Will it effect my sex in the future?
Thanks and regards,
madhu
What your wife has is known as dyspareunia. This needs the attention of a proper sexual medicine expert in female sexual dysfunction.
---
Hello,
My penis has a small brown-ish colored spot on the head. I don't know how it got there, or what it is about. It looks a little disconcerting... and the foreskin (which I think corresponds to that part of the head) is similarly darker in colour than the rest of my foreskin. Could you tell me what this is about? Should I be worried about it? Please do not publish my name along with the question. Thank you.
I'll have to see photographs of the lesion to know what this might be. You could send them to me online.
---
Do you have a question for Dr Krishnamurti? Simply e-mail him at sexualqueries@rediffmail.com; responses will be published each week and names will be withheld upon request.
Dr Sudhakar Krishnamurti is an international award-winning andrologist and microsurgeon. He is the only Indian on the world's first-ever batch of sexual medicine fellows (Oxford, 2007). Best known for the Krishnamurti Operation for Peyronie's Disease, he is also the founder of Andromeda, India's first andrology center, and author of the book Sexx is Not a Four-Letter Word. Click here to purchase the book from rediff Shopping.
Disclaimer: Please note that Dr Krishnamurti will be answering the most relevant queries at his discretion each week. His advice may not necessarily reflect the opinions of rediff.com and while it is in the capacity of professional medical counselling, it in no way should be considered an alternative to visiting a medical specialist for sex-related ailments.