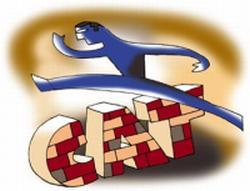 The CAT 2009 has been plagued with various problems and
has candidates scrambling for answers. But Karan Agrawal, who will be taking the test on December 3, has some different concerns:
I am a CAT aspirant taking the CAT on December 3.
As you would be aware, there are several inconsistencies in this year's CAT. The obvious ones being server crashes, delays, mismanagement at the centre, etc. These are minor issues and I am sure the IIMs are working in the right earnest with Prometric to resolve these issues at an earliest.
My main concerns are as follows:
1. Cheating being reported at various forums around the internet. Whether these are rumors or the truth, only IIMs
have the power to judge. I request forming of a committee to look into the video recording of each and every centre around the country for all the 20 slots as this is a very serious matter and it seriously hampers the image that CAT and IIMs command in this country.
2. Unfair advantage to some: It is an undeniable fact that computers of many test takers restart right in the middle of testing. These candidates get an additional 15-20 minutes of time to regain their composure, increase concentration , and/or solve quant questions from memory which otherwise might have been left un-attempted. This unfair advantage skews the results in favour of those whose computers faced trouble. How can this be accounted for? No statistical model can standardise the results of such people with that of others.
3. Errors in test: Every year there are a few mistakes in the CAT which are compensated for. A common test means that everyone is treated on par. But this year, with 20 different tests, some tests may have no error some may have one, some two. How will that be accounted for? Considering the topper's marks to be the highest and calculating a candidate's percentage out of that may solve the problem mathematically, but it is not fair. A normal person will solve 12-14 questions in each section. If there are 15 error-free questions, then his percentage shoots up, while 20 error-free questions means his percentage is not that good. What methodology can be used to resolve this paradox?
4. Violation of non-disclosure agreement: While it is possible to stop the media and coaching institutes from revealing composition of CAT, I am sure it is not expected out of candidates to not reveal the paper to their friends / relatives, etc by word of mouth. This again skews the result of college goers who have a large number of peers taking the test before them and people like myself, who don't know many people sitting for CAT, on the back foot. On various online forums, there are instances where people are writing that questions are being repeated between different slots. Again, veracity of this statement can only be decided by the IIMs.
In light of the above arguments, I request either a public statement explaining the accusations made against CAT or a re-test in the paper format sometime in January/February next year. It was done in 2003 and should be done again
in 2009 to maintain the sanctity of the test which is rated to be one of the most difficult and competitive entrance exams in the world.
Share your CAT experiences with us. Write in to us at getahead@rediff.co.in with the subject line 'My CAT
experience'. Tell us what it was like and what candidates should keep in mind on test day.