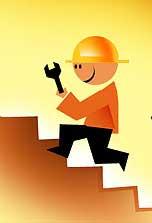 India needs homes above all else. With the burgeoning population and an ever-increasing number of people moving to urban centres for their livelihood, the demand for quality, affordable housing has never been more acute. And to address this need, we need civil engineers and architects.
Getting qualified
Architecture is a professional course that takes five years, at the end of which you are awarded a Bachelor of Architecture (BArch) certificate. In the private sector, this will cost you Rs 80,000 a year, while government colleges charge Rs 20,000 per year as fees. In Mumbai there are two government colleges -- Sir JJ College of Architecture and Rachna Sansad.
After completing your course you can work as a freelancer or get a job. It is easy to get a job as the supply demand ratio is in favour of the applicant. It is advisable to work for at least five years before you set up your own shop, though.
Architecture is a blend of art and science. The course teaches you interior designing, landscape designing and environmental design -- which are some of your career options.
In any project the architect is involved from the conceptual stage right to the end. He has to conceptualise it, work out the cost and also the maintenance cost to increase and sustain its lifecycle. The civil engineer comes in at the execution stage and takes care of the structural aspects. The prospects abroad are even more. Architects are better paid than civil engineers because they lead the project and are essential till completion.
The best colleges in India are:
School of Planning and Architecture, Delhi
Maharaja Sayajirao University, Baroda
BMS, Bangalore
Ram Manohar Lohia Avadh University, Lucknow
College of Architecture Rachna Sansad, Mumbai
The Bachelor's degree is five years and Master's two more years.
Options abroad
In the UK too the graduate course is five years and the postgraduate course two years. The first degree you get after three years which involves two years of study and one year of practicals. The postgraduation course also has one year of actual practice. In the UK, foreign students have to pay 10,500 pounds (approx Rs 7.97 lakh) per year as fees alone. The cost of living is also high.
The courses are very popular as the job prospects are very good. You can decorate sets for TV shows, museums, retail design is also a line you could pursue. The best colleges in Europe are Architects Association, London Bartlett, London Delft, Holland Kent School of Architecture
Professor Don Gray, Kent school of Archtecture (UK), says, "There are never enough good architects, so career prospects are bright."
In the UK, every architect is validated by the RIBA (Royal Institute of British Architects). More information is available on www.architecture.com.
These are just some of the institutes in India and abroad that offer courses in architecture and related fields. So if you have a creative streak yet enjoy the finer aspects of science, you might want to consider architecture as a career option.
Rachna Sansad college of Architecture, Mumbai is celebrating its Golden Jubilee this year. Professor Don Gray, Kent school of architecture has come down to participate in the celebrations.