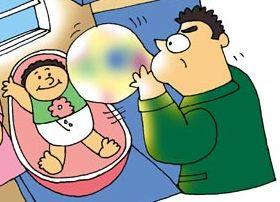 Fathers busy working are missing out on time with their children, a new study shows. Illustration: Uttam Ghosh
A poll of 2,000 fathers has revealed that two out of five working dads do not get home until after their children have gone to bed, reports the Daily Express.
Hectic lifestyles, long office hours and lengthy daily commutes are some of the reasons.
The poll showed that 52 percent feel like they are missing because they are so busy working.
The study revealed that a third missed dinner time, their child's bath time and school plays.
In the study, four in 10 said they have never taken or picked up their son or daughter from school and a third cannot schedule in time to help with homework.
One in 10 have even missed a birthday, a quarter have failed to show up at parent's evening and three in 10 have never read their child a bedtime story.
More than 50 percent said that they see Christmas and summer holidays as the only time to catch up with family.
A spokesperson for www.HomeAway.co.uk, which conducted the poll, said: "It's sad dads get so little time with their kids in the week."
To all the daddies out there -- do you have any ideas to share with readers on how to be a better father to your kids? What advice would you like to give to-be fathers? Share your parenting experiences, opinions and comments on the messagboard below.