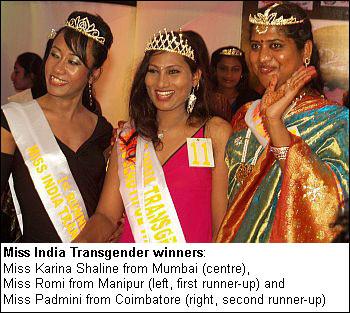 The first ever Miss India Transgender Pageant was held in Chennai on December 19, 2009.
The pageant saw 120 transgenders between the ages of 20 to 35 participate, representing different states like Tamil Nadu, Pondicherry, Kerala, Andhra Pradesh, Karnataka and Maharashtra. About 800 transgender community members and representatives working for them across the country attended to ensure its success.
While Mumbai model Karina Shaline, 25, bagged the crown, second place went to Thokcho Rockyson Romi, 23, a beautician from Manipur and third place to Padmini, a dance instructor from Coimbatore, Tamilnadu.
Besides the main and runner-up titles, there were also other prizes to claim, for Miss Beautiful Hair, Miss Beautiful Walk, Miss Beautiful Eyes and Miss Best Skin.
Miss India Transgender was organised by the Indian Community Welfare Organisation (ICWO), an NGO that is focussed on the prevention of HIV and AIDS. The ICWO works with various target groups like gays, lesbians, bisexuals, transgenders, female sex workers and the children of sex workers. The event was also supported by TANSACS, UNAIDS and ACTIONAID.