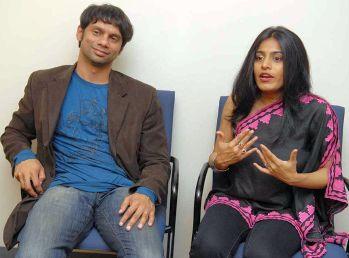 Columbia University professor of medicine Gaurav Shah and his wife Falu are emerging as a high-profile singing couple. Arthur J Pais reports.
If you have watched singer Falu and her band perform at the fabled Joe's Pub in New York or the more famous Carnegie Hall or on Fox TV, you would not have missed a tall and contemplative man. When she introduces the band members, she smiles broadly at the man, Gaurav Shah. You can see her blushing, though they have been married for 10 years.
"He is the soul of our band," Falu says. "He is not just a singer; he writes songs, and though I have been into classical and traditional music since the age of 3, and he started learning it much later -- we both were trained under (sarangi maestro) Ustad Sultan Khan -- he knows much more than I do. He constantly challenges me to be better and he is a great inspiration to me and the band."
Shah, who knows Sanskrit, Hindi and Gujarati, was just about 3 when his parents migrated to the United States from India. He is also a professor of medicine at Columbia University and is involved in cancer research.
"Music is my passion, it is my religion," says Shah, who performed with Falu at a Carnegie Hall concert last month. "But surely, medicine also means a lot. I think I am drawn to these disciplines because art and medicine bring freedom to people. Art can educate us and help us rise above tension and the bad things happening around us. Medicine helps us to be free from physical diseases."
The band is named after Falu, who is the main attraction, though few realise how much her husband is involved in the music and the performances.
Her work has caught many publications' attention. The Aspen Times called her 'one of the more impressive voices of the globalisation of music.' She was featured in a front-page story in The Wall Street Journal two years ago on new genres of music.
Falu calls her style 'Indie Hindi'. She has also been called a 'Sufi Rocker'.
Shah, who grew up in Fort Worth, Texas, has been listening to a variety of Indian music (religious, Kishore Kumar) as well as Western pop.
"That is why in our concerts you find a healthy mix of the two," he says. His interest in Indian music continued as he graduated from Harvard College and then Columbia Medical School, both with "highest honours".
Another Indian physician-musician is Roopa Marya, also a professor and with two albums to her credit.
"Though I grew up in Texas in an area that did not have hundreds of Indian families as one finds in New York or Los Angeles or Chicago, I had many Indian friends, and I attended Indian festivals and events," Shah recalls. His mother Lina, a homemaker who would sing often while doing chores, was a big influence on him. At the age of 8, he asked her to tell him a few things about Indian melodies and musical schemes.
"There is a lot of music in my mother's family," he says. "Her mother used to sing a lot. So in a way, I have been listening to Indian music from my baby years."
Attending a flute concert by Ronu Mazumdar, who was travelling across America, also ignited an interest in instrumental music in Shah, even before he became a teenager. He plays the harmonium at Falu concerts.
"I was also interested in the philosophy behind the songs," he says. "And all kinds of songs, from the Indian movies, bhajans, ghazals and qawwalis."
He began learning Sanskrit on his own, later taking credit courses at Harvard. He also studied ghazals and Urdu under Professor Ali Asani at Harvard.
Shah is so much into his music that he confesses it has never helped him relax from his medical work. "Music is an obsession with me, and for many years I used to practice it 10 hours a day, several times in a week," he continues. "Of course, I cannot give it so much of time now. But Falu often spends a full day many times a week doing riyaz."
The "craving" for learning more music made him take a year off to go to India. He met Falu Dalal through a common friend and ended up taking courses with her.
"I still remember our first meeting," he chuckles. He had gone to meet her at her house. "She was carrying the tanpura from one room to another."
Adds Falu: "I looked at him and wondered how this guy from Texas, who had a cap on him pointing in the other direction, was going to learn Urdu and classical music?"
Little did she know then about Shah's obsession.
She looks up to him in more than one sense. "He understands me completely as a person and as an artist," she says.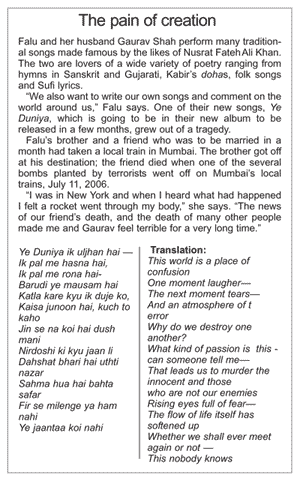 What is his songwriting process?
"To write songs, I find myself retiring to a zone of inspiration and nostalgia -- which is sometimes difficult with the stress of medicine," he says. "I find it most helpful to go back to nature -- for example, take a walk in the woods, or go on a long drive through the mountains. I also find it helpful to remember my mentors -- Ustad Sultan Khan and others. My lyrics are usually in English but the melodies draw from Indian classical and semi-classical traditions."
Falu and Gaurav do not like the word 'fusion' for their music. The word sounds experimental, she says. " I think the best example I can give is that of North Indian classical music, which came into being in present form perhaps 600 years ago -- and which draws beautifully from Carnatic music elements as well as Persian and Arabic music elements, and is an experience, not an experiment."
Though the two perform together most of the time, occasionally Falu sings with others. For instance, she performed with A R Rahman in the presence of Michelle Obama, Oprah Winfrey and Elizabeth Taylor, she has appeared on the companion CD to the Deepak Chopra bestseller The Spontaneous Fulfillment of Desire, and performed with cellist Yo Yo Ma's Silk Road Project.
"But there is nothing," she says, "like a performance with my band and Gaurav by my side."