S
hubhra Saxena
worked in an IT company, got married and efficiently ran a home. All this, till she could not bear the nagging dissatisfaction of the corporate world. It was then that she decided to resign from her job, bought a mountain of books and began cramming for the civil services examination. Of course, this was not without her husband doubting if she could manage. But she proved him and several others wrong, when she topped the examination this year.
Q.
How difficult was it to let go of a well-paying job and sit and study for over a year?
A.
It was not easy. I was earning well and working in the IT industry for about six years. My lifestyle changed when I stopped working, but I was motivated to see this through. In fact, when I started in the IT industry, I was convinced that it was a great career. But after a while, I realised that it was just a job and that I was not contributing to the society. The sense of dissatisfaction began to grow. It was difficult to convince my family that I could do it.
Q.
Does the quality of the time spent studying matter more than the quantity? Did you have daily targets to meet?
A.
Sure. I had very little time for the exam, so I did not have the luxury of time. Most people take about one to two years for the exam. I had to be very clear and focused. In all, it took me fourteen months to clear the exam.

Q.
You were clear that you were writing this exam for 'social good'. How do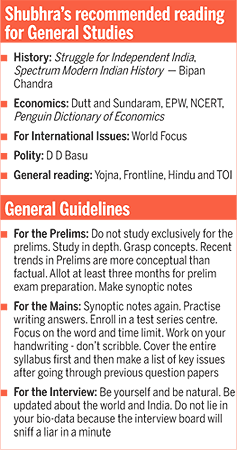 you intend to put this into practice?
A.
Yes, I do. I have certain priority areas: rural development, SC/ST, women and children. I grew up in Jharkhand and am aware of the impact of rural backwardness. Jharkhand is rich in minerals and forest areas, and still is backward. So yes, that affected me. It has been stagnant for 30 years. Bringing about change in such places is imperative.
Q.
What were your optional subjects for the exam? How did you choose your subjects?
A.
I picked Public administration because I thought I should know the basics of administration. And psychology, because I had very little time. I attended Mr Mukul Pathaks' excellent classes at the coaching centre in Vajiram and completed the syllabus in three months. Psychology is suited for my interests and attitude.
Q.
Do you think your work experience helped in facing the board?
A.
It did. The fact that I had professional experience may have had an impact on the board. Working instilled in me greater time management skills. I was used to deadlines and managing with less time and resources.
Q.
How are you dealing with the euphoria of success? How are you coping with the attention from the press?
A.
I am superstitious. Last year, when I was waiting for the results, I was with friends and family. I did not clear the exam. So this year, I told everyone I wished to be alone and I cleared! I did not expect to top though! It was only when I scrolled up that I saw my name in the number one position.
Careers360, is a complete career magazine.