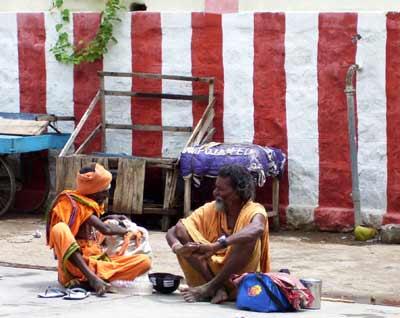 Bijoy Venugopal takes a long, wet drive through the hills of Tamil Nadu to meet the monsoon on its way out. In the second part of the series, he travels to Palani and Sethmadai.  
Part I: Driving through Madurai and Meghamalai
Part III: The memory of the northeast monsoon
Palani
Leaving Meghamalai the next afternoon in pounding rain, we encounter pagodas of elephant dung, still steaming, along with the ominous crunch of breaking branches. But the forest is too thick to reveal the culprits and we go away with the sinister feeling of being watched.
Our next stop, Palani, is five hours away. The Arulmigu Dandayudhapani Swamy Thirukoil is a sacred destination for devotees of Murugan, variously worshipped as Karthikeya, Subramanian, Saravana and Shanmuga. Located atop a hillock, it is one of south India's richest temples and draws thousands of pilgrims every day. Ablaze with devotion, they come with tonsured heads and pierced tongues, climbing the 659 steps to the summit in rain or shine. Being considerably less pious, I ride a cable car to the top.
The collateral damage of devotion is everywhere. Mountains of refuse and plastic waste rival the peak on which the temple stands. Under the pretext of beautification, trees have been torn out of the hillside to make way for carpets of Mexican grass.
From this congested temple town, I intend to locate a cluster of prehistoric dolmens off the road to Kodaikanal, 40 miles away. I call George Roshan who runs the Bison Wells wilderness lodge there. "There are five dolmens deep in the forest but the leeches will get you before you get there," he dissuades me.
Dejected, I leave for Pollachi, two hours away, to see what the monsoon has been up to in the Anamalai ranges.
Sethumadai
National Highway 209 to Pollachi, shaded by tamarind trees, takes us past gigantic windmills, coconut groves and paddy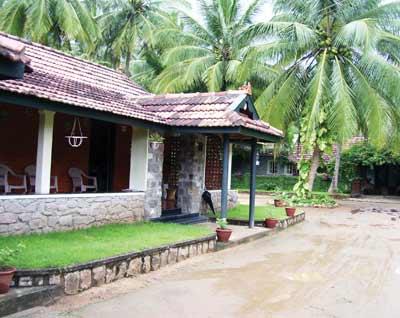 fields glistening after an afternoon shower. We skirt the town and drive to Anamalai, 11 miles away on State Highway 21.
At Sethumadai, I am welcomed to The Banyan Tree by VM Prabhu. Fiftyish, my amiable host is a seventh-generation scion of the estate and the homestay is part of his family's 5,000-acre property. It has tame geese, wild peacocks and a private waterfall. A stream gurgles through plantations of coconut, sugarcane and cocoa. The electric fencing, I observe with alarm, has been torn down by elephants.
Jackals bring on the night as Prabhu pours me a sundowner. A hands-on host and a whimsical raconteur, he regales me with the history of the region. His splendid house is a gallery of sepia-tone memories -- his shotgun-wielding father with a tiger at his feet, scenes from elephant hunts, and the family posing with the celebrities of the day. Among them, I identify the thespian Sivaji Ganesan and the former Tamil Nadu chief minister MG Ramachandran.
His wife is away, so Prabhu takes it upon himself to cook me a fabulous chicken curry. A thunderstorm breaks up our party at 11 pm. When he makes a 6 am date for a stroll around the grounds, I realize my stay has been too short. Had I more time, I could have packed in a plantation tour or visited a Kadar tribal village in the hills. Next time, I promise Prabhu as he waves me away with directions to Top Slip.
Getting to Palani
Nearest airport: Coimbatore (110 km/ 68 miles) and Madurai (125 km/ 78 miles)
Nearest railhead: Dindigul (57 km/ 35 miles). The meter gauge line from Dindigul to Palani is under conversion and is expected to be ready by 2011.
Local transport: Buses, auto-rickshaws, taxis and horse-drawn tongas
Tourist information:
Joint Commissioner/Secretary /Takkar
Arulmigu Dandayudapani Swamy Thirukoil
Palani - 624 601, Tamil Nadu
Phone: (91-4545) 241417 / 242330
Accommodation
Hotel Vels Court
29, Ayyampulli Road, Adivaram
Palani - 624601
Phone: (91-4545) 247770, 325551
Fax: (91-4545) 247771
Tariff: Rs 960-Rs 1,350
Hotel Subam
7, North Giri Street, Adivaram
Palani - 624 601
Phone: (91-4545) 241410/ 242672
Fax: (91-4545) 247915
Tariff: Rs 330-Rs 1530
Hotel Ganpat
103, Poonga Road, Adivaram
Palani - 624601
Phone: (91-4545) 242294/ 325746
Fax: (91-4545) 251511
Tariff: Rs 300-Rs 2,000
Getting to Pollachi
Nearest airport: Coimbatore (40 km/ 26 miles)
Nearest railhead: Coimbatore (40 km/ 26 miles). Pollachi is on the Coimbatore-Madurai metre-gauge line, which is under conversion and expected to be completed by 2011.
Local transport: Buses, auto-rickshaws and taxis
Accommodation
Homestays:
The Banyan Tree
Kaliamman Koil Street
Sethumadai
Pollachi Taluk
Coimbatore District
Phone: (91-4253) 244490
Manager: (91) 98655 76332
Tariff: Rs 4,500 (includes all meals, treks and plantation tours). Rooms have attached bathrooms and hot water.
Hotels
Nivetha's Inn A/C
4, New Scheme Road (Near Gandhi Statue)
Pollachi 642001
Phone: (91-4259) 235565/ 75/ 85
Email: info@nivethasinn.com
Sakthi Hotels
144, Coimbatore Road
Pollachi 642002
Phone: (91-4259) 223050/ 60/ 80
Fax: (91-4259) 236890/ 223030
Email: sakthicoir@sakthi-coir.com 
Part I: Driving through Madurai and Meghamalai
Part III: The memory of the northeast monsoon