Father's Day is on June 21, and we asked readers to send in their special messages for their fathers. In response, we have been flooded with touching, sentimental messages that celebrate fatherhood. Here we publish some of the messages we received:
---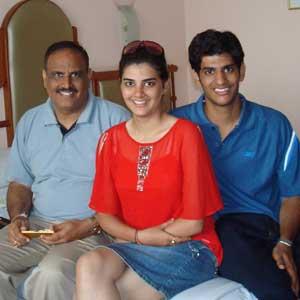 Hello Papa,
If anyone has thought more about his children/family than himself, it has been you, dear Papa.You are the epitome of selfless love, sacrifice and unrelenting support.
It is because of your initiative and continuous encouragement, that me and Saggi are where we are in life. On top of that, your own achievements always beckon us to do better. It's your invisible hand, which has given us the confidence to fall -- as we know in life you would never let us falter.
I have always wanted to tell you -- as much as I want to give back to you, you have done so much for me, that it will never be entirely possible. And you have got such a great heart, that you continue to do so. Maybe thats what a 'father' is all about; he just knows how to give.
Your mere presence gives me confidence; your being there gives me the strength to believe in myself. Always please be with us. Me and my sister will always be indebted to you. Happy Father's Day to you from your two proud children.
Lots of love,
Your bacchas (Me and Saggi)
-- Disha Kundra
---
I love my dad very much.
I was very young, 7 or 8 years old, when my dad was teaching me to ride a bicycle. He caught it and ran behind me for like a week or more and one day finally his patience was over and he pushed the bicycle hard and left me. I went straight and banged into the wall, with the handle hitting my chest hard. It was my first fall so I was very scared and went running to Momma, but never realised I was riding for almost 50 metres before I fell. I didn't realise at that moment that I had already learned how to ride a bicycle.
Since then, I have learnt how to ride a bike and drive a car. Dad got me started on it and I went on...
Thanks Dad, I love you!
You are the best Dad in this world!
-- Vaibhav V Wankhade
---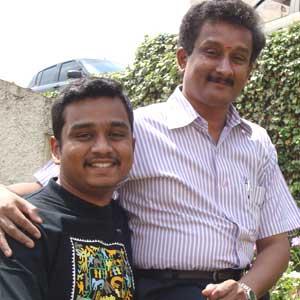 Dear Dad,
I am falling short of words to tell you how much you mean to me. You have been my role model, friend and guide all these 24 years. Right from the times when you taught me to do mathematics, helped me prepare the scripts for essay contests, sacrificed your evenings to train me for that inter-school competition, to when you sat down one night and made me write and analyse my career plan.
You keep advising me on stock markets, booked those wonderful resorts whenever I wanted to go out with friends -- the list is endless. I want to tell you that I am what I am just beacuse of you. All my success and recognitions wouldn't have been possible without you.
Love you Dad.
-- Vishnuvardhan
---
MY FATHER IS VERY SPECIAL TO ME. HE INSPIRED ME BY HIS DEEDS, INSPIRATION AND LOVE. THANK U DAD!
-- Ajoy Dasgupta
---
Respected Daddy,
Please accept my regards as I send my first message in my life to you.
I miss you and Mummy in my life. I pray daily to Lord Ganesha, his daddy, mummy and brother, requesting them to keep you and Mummy happy in heaven.
As you know, I am now the father of two kids and am trying to do my best to bring them up. I still cannot match the love and affection you provided me. Your silent support and smile, your smell and your presence still make me feel secure.
Please take care of Mummy. Shower your guidance as I still miss you and Mummy and need your fingers to guide me as I walk through life.
Touching your feet and Mummy's feet and with lots of love, hugs and kisses…
Please keep your warmth on me till I complete my responsibilities in this world and again become your son.
-- Pankaj
---
My father, he is my role model and he is the man who is behind my every success.
Right from my childhood, he always scolded me more than showing his love to me.
But he had changed into a friend through my teen years; he loves to speak to me, counsels at the right times and pumps me up by his scolding.
I shed tears with his words, but after scolding me he is the only person who becomes sadder than me.
After tasting success, I came to understand he has just pumped me by his words. He encouraged me at the right time and believed in me.
I will thank God, that if there is another birth, I should again be his child getting once more those sweet scoldings and memorable tears.
Happy Father's Day!
-- Prakash A
---
If you would like to share your messages, memories, photographs and videos write in to getahead@rediff.co.in with the subject line 'Dads' and make this Father's Day one your dad will long remember.