The announcement that the CAT will now be a computer-based test has given rise to numerous questions in the minds of test-taker. The IIMs in their announcement have cleared a few doubts and raised many more in the minds of candidates. The FAQs mentioned below are an attempt to answer those questions based on the information currently available.
So far, this is the information the IIMs have released:
Confirmation that CAT is becoming a computer-based test from 2009 (CBT CAT)
Prometric ETS has been awarded the contract for conducting the test
CAT 2009 will be conducted over 10 days at the end of 2009
More details will be communicated along with the advertisement (this is typically released in July)
According to IIM-B admission chairperson Subhashish Gupta, CAT 2009 is unlikely to be computer adaptive
Most likely there will be three tests a day over 10 days -- meaning a total of 30 different tests.
Based on this information, these are some of the FAQs students have:
How will the computer-based CAT work?
 
CAT 2009 is likely to be based on one of two patterns used commonly for computerised tests:
 
Non-Adaptive Tests: These are similar to paper-pencil tests. You are tested on a "typical" test paper. Answers will be marked on a computer instead of an OMR sheet.
 
Here you can skip, return to, or change your responses to a question at any point in time during the exam. You may or may not be allowed to see all the questions at the same time. Your answers are evaluated only at the end of the exam.
 
Adaptive Tests: GMAT and GRE are adaptive tests. You can see only one question at a time in an adaptive test, and you cannot skip it. You are not allowed to return to change your responses to previous questions.
 
The questions in adaptive tests are decided while you are attempting the test. If you are not performing well, you are given easier questions, which are worth fewer marks; if you are doing well, you are given increasingly difficult questions, which are worth more marks. 

Is it possible that my test questions will be tougher than someone else's?
 
The overall difficulty level of the test is likely to remain similar for all test-takers. In non-adaptive testing, all test-takers on different days will get different test papers. The scores will be normalised after accounting for the difficulty level of each test (see the next question for details).
 
In a computer-adaptive test, each test-taker gets different questions from a large question bank (as explained above). 

How are the IIMs going to compare or normalise the scores across various tests?
 
While the information has not been made public, we can extrapolate from the manner in which they compare scores for past academics for CAT aspirants.
 
If the IIMs decide on non-adaptive testing, they would be expected to normalise the scores across different papers using statistical distribution of scores for each test. A basic example would assume that the scores follow a bell curve. Then, the performance of students would be measured by how they have performed compared to the average performance.
 
If the IIMs decide on computer-adaptive testing, then each question will have a difficulty rating. A student will face a moderately difficult question first. Based on whether he gets it right or wrong, the level of difficulty will go up or down. There will be an algorithm that will generate the scores. 
Will there be any change in the types of questions or the test-pattern?
 
Certain types of questions are more difficult to attempt on a computer than on paper. In an online format, the reading passages will be shorter, charts and tables simpler. Questions involving incomplete tables or charts are unlikely to be there.
 
In a computer-adaptive test, you are not allowed to skip questions, so you are unlikely to not get "unsolvable" questions. Similarly, very ambiguous/ subjective verbal questions are likely to be replaced by more logical/ critical reasoning-based questions. For the same reason the test may not have negative marking (but as you get questions wrong, the system will give you lower-level questions with lower marks). 
To attempt a computerised test, what computer skills do I need?
 
You need very basic computer skills to take an online test. However, to do so well will require a lot of practice and familiarity with a computer-based test. You need to be comfortable with reading and concentrating on the computer screen for 2-3 hours as well as comfortable with registering your answers in the online format. To reduce stress during the actual exam, and to improve your efficiency, you need to regularly practice taking tests online.
Where will I do my rough work in an Online CAT?
 
You are likely to be given some means of doing rough work. For GMAT, test-takers are given an electronic scribble pad for rough work.
Should I change my test preparation and test writing strategy since CAT is going online?
 
The basic content for CAT will still remain the same and you still need to focus on fundamentals while preparing. However, the way in which you are going to attempt the test will change.
 
Familiarise yourself with working and reading extensively on a computer. Practice as many online tests as you can, so that taking a test on a computer becomes a habit.
 
As mentioned earlier, reading passages might become shorter and charts and tables simpler. You should focus on practicing questions with shorter passages.
 
If the test is adaptive, question selection strategy will no longer play a role because you need to attempt every question and questions are shown to you serially. You cannot choose which questions to attempt.
 
Accuracy is very important when attempting an adaptive test—because as you start getting questions incorrect, you are given easier questions, which are worth fewer marks. 
Who is conducting the test?
 
The IIMs have chosen Prometric ETS to conduct the CAT online. Prometric ETS has also developed and conducts the GMAT and GRE computerised tests. 
What does a typical online testing environment look like?
 
Common features of most online test-taking tools include simple navigation buttons, and a way for a user to select his correct option.
 
The image immediately below shows a practice test in the GMAT Test Preparation Tool developed by Prometric ETS.
 
The second image shows a screenshot of a full-length Mock CAT (http://testfunda.com/LMS/Student/TestCentre.aspx) from TestFunda.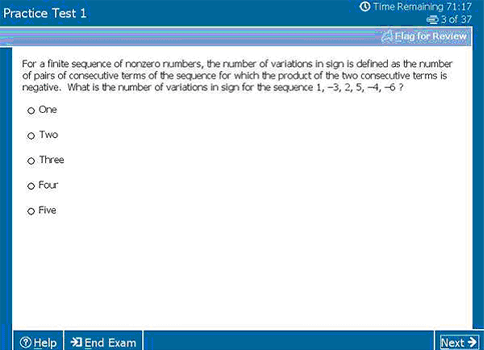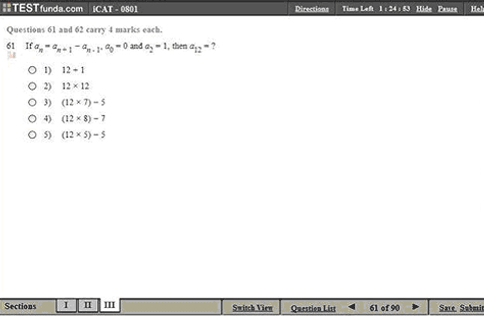 TestFunda.com is a website offering personalised online preparation for competitive entrance exams like CAT, FMS, XAT, etc. TestFunda.com also provides free Online iCATs,Launch CAT 2007, 2008 in Online Format, Discussion on CAT going Online, Cast your vote on Online CAT-2009, TestFunda Courseware.