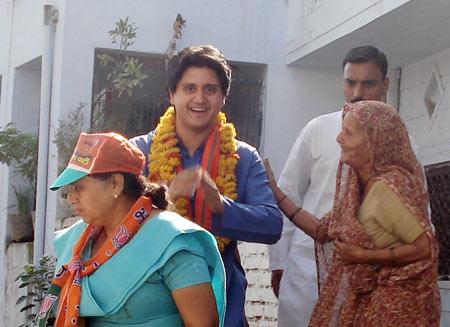 A few weeks ago Akshay Bhansali took leave from his job at MTV, New York, and arrived in Gwalior to help his mother Yashodhara Raje's campaign.
Going door to door, asking voters to 'Vote for ma' in the narrow lanes of Gwalior, where people came out of their little homes to garland him.
A posse of Bharatiya Janata Party workers walk alongside, directing him where to go as the 29-year-old journalism graduate from New York University, swiftly covers ground beginning at 8 am -- hearing people, putting his arms around their shoulders and ducking in and out of their homes.
"I like these one-on-one meetings. I ask them about their concerns and keep it quite apolitical," says Bhansali who grew up in New Orleans and speaks with an American accent.
"I was a raving lunatic who couldn't speak a word of Hindi when I first came to help in my mother's campaign when she was contesting as an MLA from Shivpuri. I spent three weeks then, but now my Hindi has improved considerably -- though it is still a work in progress," he smiles as he stops briefly in a home on his padyatra.
Comparing the two worlds that he inhabits -- he's called yuvraj when he is in Gwalior and his professional life as a writer, producer, editor at MTV News in New York -- he says both are as much a part of his life. "I do not need to do any juggling, they are both a facet of my personality."
"I love landing in New York and seeing the familiar yellow cabs and love landing in New Delhi where you can see the familiar sights and instantly feel the humidity. I come to Gwalior whenever I am in India and definitely go to the beautiful Gwalior Fort."
While his mother toured the rural parts of her constituency which has 1,600 villages, he focused on meeting people in Gwalior city on her behalf. "She has an amazing effect on people," he says and speaks glowingly of his older cousins -- Jyotiraditya Scindia and Dushyant Singh -- who are also contesting this Lok Sabha election.
"Dushyantdada is doing very well. He has a great example in his mother (former Rajasthan chief minister Vasundhara Raje) and Jyotiradityadada is one of the most committed ministers."
Of his own plans of joining politics, he says it would be amazing to be involved in a country which has one-and-half times more 29-year-olds than the whole of the United States. "This is a crucial time to be involved and I would be honoured, but I am still working things out. Life is all about finding out."
His mother says his help has brought a fresh touch to her campaign -- and she sees a lot of her late brother Madhavrao Scindia in her son.
"His style is so people oriented just like his uncle. There are a lot of similarities even in the face. He looks a Scindia and is a born natural, like my brother," she says.
"He doesn't need to be taught anything, he teaches you," says the obviously proud mother. "You can dump him in the middle of sharks and he will make them smile and come back."
"He has been stellar," she continues. "They have every convenience in America, but he has been walking in this hot sun in jhuggis and jhopdis, you need a little bit of strength and courage to do all that and he has done this with a smile. Not one day has he said why did I ever volunteer to come."
Akshay, who visits India 4 or 5 times a year and visits Gwalior each time, returned to New York after campaigning ended. He says his ties with the city remain strong: "I studied for three years at the Scindia School -- yes, one other thing that I always do is have chicken at Kwality (a local restraurant. It has been a favourite since school."
He may be called yuvraj, but he says his last name is Bhansali. "I just tell them to call me Akshaybhaiya."
Text: Archana Masih. Photograph: Seema Pant.