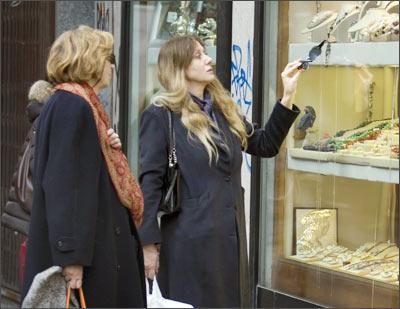 While we do agree that there shouldn't be just one day in a year to honour your mother and show her how much you love her, there's nothing to stop you from increasing your efforts on Mother's Day to show dear Ma a good time!
With our lives as fast-moving as they are, it's hard to take out time to spend with your mother, especially if you live in different cities. But when Mother's Day rolls around, even commercial ventures join hands to help you show your love.
So here's a few suggestions from us to you on how to show Mom the time of her life this Sunday!
Shop till you drop
Which woman doesn't love to shop? You can avail of the many discounts and sales around the country at this time of the year and take your mother on a shopping spree. Look out for Mother's Day deals at shopping complexes and stores for some real steals.
For instance, Square One Mall, located at Saket in New Delhi has a creative deal on. They ask you to come with your mother (or mother-in-law), dressed in pink anytime between May 8 and May 10, 2009. Collect your gift voucher worth Rs 1000 and shop for brands like Anju Modi, Rohit Bal, and AM:PM. For more details about this offer, call +91 98905 6909.
Don't have the time to go shopping? Just log onto http://mothers-day-gifts.rediff.com to buy your mother a gift at discounted prices. Sify Shopping also has a promotion going wherein you can send your mum a bouquet of flowers free on online purchases above Rs 2,500.
Eating out
For the millions of meals your mother cooked you while you were growing up, now's your turn to treat her to a sumptuous one. Take her out to her favorite restaurant and wine and dine her in style. Restaurants in most cities are offering special deals and offers for mothers on Sunday.
If you are in Mumbai, check out Out of the Blue at Hotel Pali Hills in Khar. The restaurant is offering a lunch buffet at Rs 550 + taxes with gifts and live music. Enjoy the afternoon with your mother as you relax with a foot massage by True Fitness masseuses and manicure by Yves Saint Laurent. In addition, the restaurant promises that everyone takes home something -- gift hampers from Yves Saint Laurent, VIP vouchers from True Fitness and Exotic food baskets from Chenab Empex. Reserve your table now at +91 93248 39393 or +91 (0)22 2600 3000.
Vanilla Place in Chennai invites all mothers to sample their Mother's Day Platter consisting of a summer salad, crispy paneer fingers with a dip, home-made pasta, juice or coffee at Rs 130 per head between May 8 and May 10, 2009. And if you're not yet a mother, but are expecting, you can avail of their special 20 percent discount on maternity wear. Call them at +91 (0)44 4553 4146.
Pamper her
If anyone deserves a day of total luxury and being waited upon hand and foot, it's your mother. And with all the Mother's Day deals floating around at various spas, you can now gift her a couple of hours of being pampered without burning a hole in your pocket.
Head to the Park Hotel,, located at 15, Parliament Street in Delhi and ask for their 'Mamma Mia Massage'. Comprising of a pumpkin wrap, an hour of aromatherapy massage and hair treatment in their salon, or a relaxing facial customised to her skin type, this three-hour long treatment is sure to make Mom feel like a queen. While the regular price for this is Rs 5,500, the hotel offers a 20 percent discount on gift vouchers for your mother from May 8 to May 15, 2009. Call them at +91 (0)11 2374 3000.
For a more elaborate package, head to the Birla Kerala Vadiyashala at Prabhadevi in Mumbai, for an ayurvedic massage and treatment, anytime between 9 May to 15 May 2009. Avail of their 15 percent discount on rejuvenation therapies at the Ayurveda Therapy Centre and catch a bite at their herbal cafe H3, which offers freshly prepared health drinks and nutritive salads with no added preservatives, and uses natural sweeteners like honey and jaggery. Call +91 (0)22 2430 2336 / 2436 1173 to make reservations.
Kaya Skin Clinic offers a range of products along with an ExpressGlow treatment that will bring the glow back to your mother's face for a discounted price of Rs 3,600. Kaya is present in 54 cities, so head to the branch closest to you to gift her flawless skin.
Help her stay fit
Whether your mother is a fitness freak, or you've been trying to get her to exercise ever since you entered your teens, a fitness membership at the neighbourhood gym is a great gift that will help your mother get fit and feel a whole lot better too.
If your mum just isn't into gymming, and you have the luxury of working out together, call Fitness Factor in Mumbai at +91 9874 93495 and avail of their ongoing offer of two customised training programs at home for the price of one.
Surprise her!
Want to surprise your mother, but don't know how? if you're completely and totally stumped, leave it to the professionals. From a spa experience at home to personalised towels, to hiring a chef for the day, Any Surprise Any Place will do it for you. Log on to www.asap.co.in/motherday.html to arrange for a surprise you know your mother won't forget in a hurry.
Whatever you choose to do, remember that there are no rules. You know your mother best, so to make this day a memorable one you and your mother will cherish, follow your heart.
Photograph: Chris Helgren/Reuters