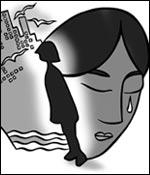 Last week, we invited readers to comment on how young people can deal with stalkers and obsessive lovers. We also carried professional advice and a young girl's harrowing account of being stalked. Here, reader Mukesh Ranjan from Pitampura in Delhi narrates his sister's traumatic experience from when she was still in school:
Reporting a stalker experience from a male perspective is really interesting. But it was my sister who was a victim and I was witness to all this. I was 11 years old and my sister was 15. We were in the same school. The nightmare began one summer when I realised that we were being followed by a guy from school.
As I was a little young, I saw nothing bad and had no idea what exactly he was up to. He used to follow us all the way home. After few weeks of being followed, it started irritating me. I started thinking about how to overcome this. My sister was very frightened. We did not speak to my parents and the reason why we didn't is still unknown to me. I use to remain upset or in a bad mood all day. I was very young and could not bear it effectively. My academic performance, as well as my sister's, was suffering. My parents were completely unaware of all this but they knew that something was wrong, since we both were very good in school and suddenly results started to deteriorate.
This happened for 2-3 months. I was completely depressed, as was my sister. My nature also changed. I felt that I was becoming short-tempered. My mind started thinking of bad ways to get even with the guy. Today when I think of those ideas, I cannot believe they came from me. The stalker started to pass by our house more frequently. I told my close friend about our problem, but it was a mistake -- it was not so small an issue to be solved by a 12-year-old boy. All this ended when our parents sent us to boarding school. Today I am 22 and my sister is 26. Whenever I go to my town and I come across that guy, I still feel like taking revenge. My conscience tells me what I'm thinking is wrong, but I am also a human being.
Sometimes I think of all those incidents and interestingly, I find that it was me and my sister who were at fault. If I had told my parents about all this, the traumatic period would not have magnified as much as it did.
The problem of stalking is very common in our country, especially in small towns. The victims are generally middle class girls. But the one and only solution to this problem is not to get victimised -- instead, stand brave and fight. As in our case, if we had confronted the guy or my sister had slapped him in front of people, the problem would have been solved. Or we should have reported it to our parents and they would have taken action.
There are no adequate laws to deal with stalkers, but if the problem has a much easier solution, then why to go for constitutional laws? First of all, oppose people who follow you. Deal with them strictly if needed (as in most of cases, strictness is essential). Don't become easy prey. Secondly, report each and every incident of stalking to parents or elders, no matter how small they seem. Parents' intervention is very much required. Thirdly, DO NOT HESITATE TO REPORT THE MATTER TO THE POLICE.
This menace can be dealt with using courage and parental supervision only.
Have you ever been in a similar situation? How did you deal with it? Please share your experiences and suggestions with us. Send your stories to getahead@rediff.co.in (subject line: 'Stalker experience') and we'll publish them right here on rediff.com
Illustration: Uttam Ghosh