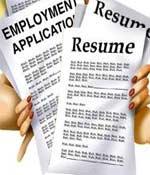 It's that time of the year again when companies start headhunting in campuses across the country. IT companies also start their engineering college recruitments after the seventh semester is over, ie in December or January.
Every student wants to perform her/his level best in the placement season and win that dream job. The first step to get that coveted job is to apply to the company, and for that, you need a resume. A picture is worth a thousand words, they say, but when you have only words to tell the recruiters your story, you have to be artistic with them too and use the words to create a picture of yourself in the mind of the recruiter.
Typically, a recruiter gets thousands of resume for a couple of entry-level openings. To identify the potential candidates from that big pool, there are certain criteria which each recruiter sets for selection from the information provided in the resume.
But does your resume even provide that information? For example, you may have mentioned your father's name in your resume, but you might not have mentioned your Class 10 percentage there. Or you might have mentioned your sex as male or female, but you might have missed mentioning whether you are in the fourth year now or whether you graduated a year back.
Another thing that might lead your resume to the trash bin is the nature of skills and qualities you have mentioned. Being punctual or hardworking are not your strengths, they are some attributes that are expected to be in every candidate by default. Similarly, surfing the net is not an interest or hobby, it is just a tool that you use to do something in your spare time. What you do on the internet may be one of your interests or hobbies.
Some students have also been heard complaining that they don't know their strengths or weaknesses, they have never participated in extra-curricular activities, they have never done an internship in an organisation, and similar other problems.
They say that they have nothing to write in their resume. My advice for such students is to go back in time, explore deep into their history, and they will be able to find relevant and meaningful things that they can mention or highlight.
It is essential that everyone who is in the placement race gives sufficient time and serious thought to resume-writing and writes a resume that holds all the relevant information. But how does one get feedback on her/his resume? For this, find people around you who can read and assess your resume and help you in writing a good one. Obviously, you can also take the help of experts who will give you personalised feedback and assure you a well-written resume.
Mayank Gupta is an IIM Kozhikode alumnus and handles the Business Development at BodhiSutra. BodhiSutra (
www.BodhiSutra.com
) is a venture of IIT and IIM alumni and provides employability skills training programmes for engineering and management colleges.