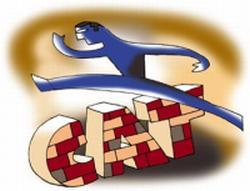 After a steady increase in the number of MBA aspirants applying for the Common Admission Test or CAT, 2009 has seen a drop for the first time in years.
Last year over 246,000 students had applied for the test. This year the number has fallen to 241,000.
Even though it might seem like a miniscule drop -- less than four per cent or 5,000 applications -- Neelesh Kossambi, national media manager at IMS Learning, wonders if it might be reason enough to start worrying. And if, after all these years, is an MBA or Masters of Business Administration finally beginning to lose its lustre in India?
One of the reasons that Kossambi points to is the CAT going online. And with other related entrance tests (like XAT, CET etc) also going online, Kossambi feels the number could well be significant.
ARKS Srinivas, director of TIME, seems to echo Kossambi's point of view. He tells us that over 20 per cent of his Mumbai students do not have an email address. "Young India is not as tech savvy as we might want to believe. And if this is the number in Mumbai can you imagine what happens to smaller towns?" Srinivas asks.
Khurshroo Antia, a chartered accountant preparing for CAT, told us that the web version of the test entails all calculations be done mentally, a major hitch for most students. "Earlier you had the privilege of using the pen and paper. That is not the case this year. Copying out the problem on a paper is not an option either because it will cost you time and effectively your percentile," Antia says.
Kossambi also attributes the drop to the media reports. He points out that the IIMs have been under the constant glare of the media. "Reports of hefty pay packages of IIM grads have given way to how their salary levels have dropped in recent times. This has definitely affected aspiring MBA students," he says.
Srinivas however has another take on the matter. He dismisses it as herd mentality and says: "In India we work on sentiment. And since the sentiment is down so is the number of MBA aspirants."
Further the hike in the fees is an issue that is troubling, says Kossambi. He says that the IIMs and ISB have hiked their fees so much that students are put off.
But is it reason enough to start worrying? Apparently not.
Aspirants like Antia are quite cheerful because they will have less competition this year. And recruiters are scoffing at the very idea that it might affect recruitment in the coming years.
The drop in applications will not affect the number of graduates since the seats are limited and will get filled any way, one recruiter points out.
Vinay Bhave of R-Search, a recruiting firm, also says that infrastructure projects hold the key. He says that while this sector was the worst hit it will also be one of the first to take off.
Engineers, he insists, will be back in business: "You cannot keep infrastructure projects on hold for long. And once they get off the ground you will require engineers."
Bhave describes the current market situation as being 'cautiously optimistic' a phrase that is becoming as popular as 'Wall Street crash'.
He says that he's already started receiving calls for recruiting at the CEO level and insists that this is just the beginning. Bhave also foresees the need for people specialising in finance.
Srinivas agrees with Bhave, though only in part. He suggests that CA trend is 'merely cyclical'. "It was hot from the mid-80s to the 90s and then around 2003 after which it saw a slump. Now it's back," he says almost dismissively.
Career counsellor Pratibha Jain offers a far more balanced perspective. She agrees that CA might be the in-demand course but says that MBA will continue to hold its sway in the long run.
Jain insists that the degree is nowhere close to losing its lustre and lauds student professionals who stick to their job and get work experience to the classrooms. This according to her helps them 'make an informed choice of what they wish to specialise in'.
The trend according to Jain is that of 'matching aptitude with goals and not vice versa'. So a lot of professionals keen on rising up the ladder seek to get an MBA degree on their resume.
"It is your only option," Jain says, "Unless you are looking at finance (where you can study Chartered Accountancy), MBA continues to remain the sole specialisation post-grad programme. There is nothing equivalent that will leverage your career prospects."
This also means that, IIMs not withstanding, a whole lot of professionals will opt for a good second tier business school, which will give them a better edge.
As Jain says, "MBA is still the golden bird." And everyone wants a shot at it.