We invited readers to share some of their favourite recipes with us. As part of a continuing series, we publish two of these lip-smacking recipes we've received so far: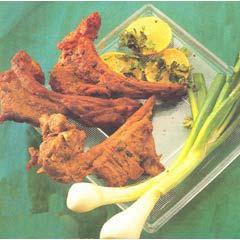 Here is how to prepare Chicken Sookha by Nitin Bhatt:
Cuisine: North Indian

Type: Non-vegetarian
Preparation time: 1 hour
Ingredients:
3 lbs chicken cut into 1-2 inch pieces
1/2 tsp whole cumin seeds (jeera)
2 tsps red chillie powder
1 finely chopped green chillie
2 dry red chillies
1 tsp salt or according to taste
1/4 tsp haldi or turmeric powder
2 tsps ginger-garlic paste
2 inch cube of fresh ginger peeled and cut into very small pieces
1 tsp dhaniya powder
1/2 tsp garam masala
5 tbsps vegetable oil
2 onions, one diced and the other sliced lengthwise
1 inch-long stick of cinnamon
2 bay leaves
1/2 tsp black pepper
Cashew nut pieces
Chopped coriander leaves for garnishing
1 tsp lemon juice
Preparation:
Clean the chicken pieces, wash thoroughly and drain the water.
Marinate the chicken pieces with the mix (red chillie powder, little salt, haldi, 1 tsp ginger garlic paste) for 1 hour.
Put marinated chicken in steamer (rice cooker steamer or other) and steam for 1/2 an hour. Chicken should be well cooked, leaving most of its oil in the steamer's water. Throw the water away (most of the fat is now gone!).
Heat oil in a pan, add cumin seeds, onions (small & large pieces) and green chillies. Fry onions till brown .
Add rest of the ginger and garlic paste, dhaniya powder, bay leaves, cashews, salt, chillie powder, chopped green chillies, dry red chillies, ginger pieces and fry for a few more minutes.
Add the marinated steamed chicken and fry for sometime. Do not add any water.
Stir it, cover the pan and let it cook for 15 minutes.
Remove the cover of the pan and garnish it with coriander leaves and lemon juice.
Health quotient: Most of the chicken fat is thrown away, making this an almost fat-free dish -- serve as appetizers or main course.
And here's Suchitra V's recipe for Cheesy Rice:
Cuisine: Indo-Italian

Type: Vegetarian
Preparation time: 20 minutes
Ingredients:
2 cups basmati rice
Vegetable broth
1/2 an onion
1 bay leaf
2 tbsps mascarpone cheese
1/4 cup grated parmesan cheese
2 tsps crushed garlic
2 tsps butter
2 tsps olive oil
1/4 cup green peas
Salt and pepper
Preparation:
In a pan add butter and olive oil, bay leaf, crushed garlic and finely chopped onion.
When the onion is slightly brown, add basmati rice and stir it for a few seconds; then add vegetable broth, salt, pepper, green peas and keep stirring every few minutes.
Depending on the texture of the rice, keep adding veggie broth to make sure it is cooked.
Then add grated parmesan cheese and mascarpone cheese and mix well.
This rice is deliciousand has a very different flavour. It goes best with cucumber raita.
Health quotient: This recipe is very easy to make and very, very tasty. It's a good mix of Indian and Italian flavours.