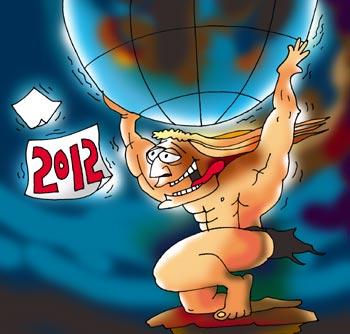 On November 12 we asked our readers what would they do if they had only three years to live life to the fullest. The contest has come to an end on November 23 at 6 pm.
We asked readers to enter a contest to win exciting prizes and they mailed us 10 things that would make it to their priority list if the world were to come to an end in 2012.
They entered in overwhelming numbers. The responses ranged from the rib-tickling to the outright hilarious.
Thank you dear readers for your excellent response to the '10 things I'd do before I die' contest. We will announce the winning entries very soon.
Here's how the contest was announced on November 12.
What would you do if you had only three years to live life to the fullest?
Tell us and win super prizes! Illustration: Uttam Ghosh
Hollywood biggie 2012 releases in India this week. It is based on the ancient Mayan prediction that 2012 will be the earth's last year in existence and that the Third Rock from the Sun will be destroyed thereafter.
While Armageddon movie buffs look forward to Emmerich's special effects and visuals extravaganzas --he is, after all, the director of Godzilla, The Day After Tomorrow and 10,000 BC, among other films -- let's check out the Mayan prophesy.
The Mayan civilisation is believed to have stretched from the Honduras, Guatemala and El Salvador to Mexico in Central America. Mayan art, architecture, languages, mathematical and astronomical accomplishments are studied even today.
The Mayans are credited with perfecting a calendar -- one that draws to a close on December 21, 2012.
Now whether you believe that the world is going to end three years from now or not, it does bring up one very interesting question -- if you had only from now until 2012 to live life to the fullest, what would you do?
Would you, for instance, quit the drudgery of work and take up something you truly loved doing?
Would you travel to places you've always wanted to visit?
Would you stop saving and start spending, fulfilling your every desire?
Would you quit the rat race and spend time with the people you love?
Let us know the 10 things that would make it to your priority list if you had only three years to live.
Adventurous, moving, tender, unusual, funny -- they can be anything you want. Just let us know what you'd do.
The most interesting entries will win prizes from Rediff Books -- the online book store with over 3.5 million books, 40,000+ authors and 500+ categories.
So hurry and mail in your lists to getahead@rediff.co.in (subject line: '10 things I'd do before I die') along with your name, age and contact details. You could win:
1st prize: Rs 3,000 gift voucher from Rediff Books
2nd prize: Rs 2,000 gift voucher from Rediff Books
3rd prize: Rs 1,000 gift voucher from Rediff Books
Seven other prizes: Gift vouchers worth Rs 500 each from Rediff Books
Remember, the contest closes 1800 IST, November 23, so make sure your lists are in by then!
Terms and conditions:
By participating, all entrants agree to be bound by the decisions of rediff.com
10 winners will be selected from among all eligible entries received by rediff.com by the notified last date.
No cash substitution of prizes will be allowed.
In the event a winner chooses not to accept the prize, he or she forfeits all claim to that prize.
Any prize returned to rediff.com as non-deliverable will be awarded to an alternative winner.
The contest is only open to residents of India.
Employees of rediff.com and their immediate families are not eligible to enter the contest.