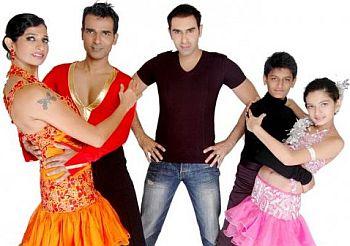 With Latin and ballroom dancing becoming more popular among urban Indians, they are moving to more serious business in place of just being an entertainment. Talented young professionals and choreographers are catering to this massive sway, ushering in a new dance culture, observes Jayalakshmi Sengupta.
Amidst thunderous applause, choreographer Irfan Khan, who spent every waking hour perfecting faltering steps, heaved a sigh of relief. The ovation was as much for the hundred odd students in various age groups, performing in the dance fest Hypnotize in Navi Mumbai, as their instructors. This year, among other things, they had to deal with the swine flu panic which nearly threatened to stall the show. If safety was the issue the founder of dance academy FSDA (Firoz Sheikh Dance Academy) , Firoz Sheikh left no stones unturned. "This was not about money but the effort of the participants who had been eagerly waiting to showcase their talent on stage. Their success means everything to me and I am always prepared to go on limb to see that big smile of achievement on their face," says Firoz.
In the sea of dancing talents India boasts of today, Firoz Sheik or Irfan Khan may not be big names. But they represent a growing number of young professionals, dedicated to taking dance as an art form to greater heights. They are also the struggling epitomes of the continuously evolving modern dancing styles looking for a serious audience to appreciate them.
In India, the popularity of modern dancing and its trends had been always linked to hit movies. In the last few years, the contemporary dance fever has taken a new dimension ever since the reality shows came in. Sheetal Kahrak , CEO of the Innocent Heroes Foundation (IHF), Pune, a Kathak dancer herself, has found dance an extremely meaningful medium to empower the under privileged children she works with. She has recently launched an endeavour to spread the message 'Save water' through a unique dance ballet, where she combines classical Kathak with contemporary dance. Is classical dance dying out then? Sheetal feels the younger generation is naturally attuned to the evolving styles due their exposure to TV. They learn new styles effortlessly and enjoy them immensely.
Courtesy shows like Nacch Baliye and Jhalak Dikhlaja, Salsa has become extremely popular. There maybe other dances like the Cha Cha Cha, the Tango and the Lambada, but they are not so much in the limelight yet. Hiphop styles like Bayboying and Popping and Locking have also made a comeback in recent times with the Dance India Dance show.
The reality shows have also managed to capture every middle class dream. Stage dancing is a common craving today. Thanks to the Mother's Special introduced by Boogie Woogie, it is not restricted to children or young people alone. While the younger lot prefers contemporary styles, grown-ups and moms learn Ballroom and Latino styles and also some Bollywood dancing.
Mumbai, in particular as the Mecca of all dance forms, has seen a large number of dance classes mushrooming overnight. Augustine from Navi Mumbai who has been in this profession for more than a decade observes how dancing has caught on like wild fire in the last few years. "Now the middling group of 35 to 50 is equally interested," he says. And they are from all walks of life. Even businessmen take out time from their busy schedule to shake a leg. "It is a
great weight buster for most and an anti-depressant. Anyone interested in exercising is also looking at dance as a favoured medium instead of the boring treadmill," according to Augustine.
Notwithstanding this popularity, the Indian attitude towards Western or folk dances is largely casual, lament serious danseurs like Sandip Soparrkar. If Shiamak Davar made Jazz popular and Terence Louis introduced modern contemporary dance in India, Soparrkar has been credited with keeping the classic Latin and ballroom dance scene alive and taking it to the masses. While he appreciates the fact that TV shows have made people realise dance can be more than a hobby or the fact it is never too late to dance, Indians are lagging behind in seriousness, dedication and the certified training needed to take it a notch higher.
The dancing trend is largely stuck in a groove existing for its entertainment value. Parties, fests and marriages are the usual dancing grounds where it never goes beyond hip-swaying. It is the disco joints that get to see some talent at times, where serious dancers often lock horns in dance-offs.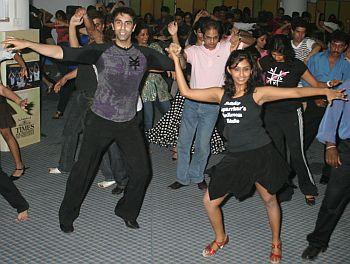 Ballroom and Latin styles deserve more serious attention, according to Soparrkar. For a layman Salsa is about 'lifts and drops', throwing the woman in the air and a special chemistry of close dancing. These two categories, however, fall into the gamut of competitive dancing that takes place worldwide at different levels. Sometimes referred to as Dance Sport, they allow participation by less advanced dancers at various proficiency levels and are recognised by no less than the International Olympics Committee. India has only very recently moved into this competitive bracket, this being the third consecutive year when we are sending an entry for the indoor Asian Games. As the official trainer for the AIDSF (All India Dance Sport Federation) Soparrkar feels dancing in India will achieve a new dimension if we recognise it as a serious sport.
Fledgling instructors like Firoz agree with this. His dance academy may not be the only one in Navi Mumbai, but it is the first of its kind to set a serious tone to the dance mania that sets this country pulsating for little or no reason at all. An aesthetically designed, centrally air-conditioned personalised space with wall-to-wall mirrors takes some investment, but Firoz wasn't worried about the cost of setting up a studio. His aim was to set a certain standard in dancing, even as a hobby or profession. Like him, Shruti Tulpule, an ace biotech student who recently made it big on Sony TV's reality show Entertainment Ke Liye Kuch Bhi Karega has taken up the gauntlet "to ensure dancing as a profession achieves the respectability it deserves".
The Oscar studio was perhaps the first to set a trend followed by Saroj Khan and Ganesh Achharya. Sandip Soparrkar, Terence Louis, Remo, Prince, Shaimak and Rahul Saxena all contributed to take this forward. In the newly-developed Navi Mumbai, the Ansar group -- Bobby Khan, Augustine, Firoz Shruti, Irfan and others -- are providing succour to the budding talents. Hopefully ushering in a more robust and competitive dance culture that India needs
hereon.