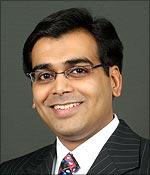 'CFO is a Chief Financial Officer' is the first thing that 35-year-old Bhairav Kothari tells us earnestly when we meet him at his office in suburban Mumbai.
'I don't reveal the names of my clients,' is the second thing he says.
Bhairav Kothari runs Super CFO, a company that offers 'CFO services' to start-ups and small and medium enterprises (SMEs). Kothari seems like a man with a strong network. Because despite almost zero visibility he is doing well for himself. You don't need him to tell you this. His small but swanky office in Mumbai does the talking.
It has been two years since Super CFO began. But Kothari confesses that he still needs to educate a lot of his potential clients and hence often starts off his conversations explaining just who a CFO is and what s/he does.
In an interview with rediff.com, he speaks of this unique concept and tells us just why what he does is not consultancy.
Excerpts:
How did the idea for Super CFO come about?
Although I had been in regular day jobs earlier, I knew I always wanted to be an entrepreneur. It was only a matter of time when I would start something on my own. Also I have always been excited with my job as a CFO in various companies and wanted to do something similar but on my terms.
The idea for the company came about when I realised that a lot of start-ups and SMEs could go a long way with a good CFO. Also these were the very companies that could not afford a full-time employee at that position.
Super CFO fills in this void by offering services that may not cost as much but offer the same expertise that a CFO would.
What is the level of Super CFO's involvement in a company?
We can get involved at three different levels. Some companies hire us as 'Virtual CFOs' when there isn't enough work for a full-time CFO. So we spend a fixed amount of time in their office but are available for them on email or the mobile phone. As 'Interim CFOs' we step in when there is a temporary void after a CFO has quit or has gone on a long leave of absence. If it's the former, we also offer to recruit another CFO who can take over from where we've left off. Finally, as Special Purpose CFOs we help out companies that have specific needs -- like raising funds for instance.
Your website says that the services of Super CFO can be availed of on an hourly basis too. How does that concept work in India where IST stands for Indian Stretchable Time?
(Laughs) Well I must confess it isn't as cut-and-dry as it sounds. We understand that the idea of working only for a specific number of hours is not prevalent. So we try and measure the efforts required for a certain assignment and then try and put a figure to it.
But how do you measure efforts against time?
It's like a doctor who will charge you a certain fee for a surgery that will last for say nine hours. The doctor knows how complicated the case is and will give you an idea of what it will cost you. We at Super CFO come with a good deal of experience so we know just how much time and effort will be needed.
Besides you, who else is part of Super CFO?
Manohar Kale who comes with over 22 years of professional experience in business management, finance, audit and cost control management among others. He has worked with various public and private sector companies in India, Singapore, USA and the UK among others.
R Sundaresan has more than 31 years of professional experience in business management, debt restructuring, project finance, taxation and MIS among other things. He has worked with large banks, leading insurance companies as well as private sector firms.
Finally we have Vinay Kshirsagar who also has more than 30 years of professional experience in Business Operations, Finance, Accounts, Audit and compliances, and Cost Control Management. Vinay has substantial experience in the field of shipping and logistics industry in India.
We are all CFO partners. We do have employees who assist us in R&D. But it's the four of us who actually offer services as CFOs. We are looking at new people to join us too. But we haven't really found someone worthwhile yet. Further since the person will join us as a partner it is a decision that needs careful consideration.
Tell us something about your stints before forming Super CFO.
I have served at CBay Systems in various capacities and became its Group CFO. (CBay is the largest provider of medical transcription services in the world and is the largest healthcare BPO in India). Prior to that I was with GRUH Finance (a leading housing finance company).
During recession, consultants are the first to face the axe. How have you been faring so far?
We are not consultants. When a company hires our services, we are for all practical purposes part of that company. We even carry the company's visiting card when we go for meetings. Most importantly we don't simply suggest solutions, we execute them. This sets us apart from consultants who often make impressive presentations and suggest ideas that cannot be executed. When we take on an offer, we roll up our sleeves and we get down to the grass roots.
Besides the need for a CFO will always be there -- if the economy is booming you will need someone to get in funds and if not you will need someone to arrest the fall.
Have you had to take some tough decisions like laying off people?
Yes, we've done that too.
Is it difficult? Someone who lost his/her job will perceive you as someone who just stepped in and cost someone his/her living.
That can happen even when a new CFO joins full time! But it also boils down to the fact that we are not outsiders. When a promoter introduces us, he introduces us as a CFO and not a consultant. We function as part of the company and take decisions that according to us will benefit the firm.
As CFOs we also try to identify resources that are an asset to the firm but are not harnessed or perhaps identify missing roles and create leaders. We are not disruptive of manpower. You realise in whatever role it may be involved with a company, Super CFO eventually hands over the reins to someone before moving on. So we need to keep our record spic and span.
What happens when you have direct rivals approaching you?
Firstly, we try to identify if the two companies are indeed in direct competition. There are times when one firm is operating in say north India and the other in the south. Then there's not much of an issue. Either way the same CFO does not work with the two companies.
However we keep our older client in the loop at all times. We ask them if they are fine with the idea of us working with the potential client. If not, we let go of the offer. It has happened to us when one of the companies we handle requested us to turn down a client because they saw that firm as a future competitor.
What were the challenges you had to face while setting up this company?
I must confess I have been fortunate because I got my first client within three days of starting up. But the biggest challenge we've faced is that of trying to explain to people just what we do. Very often people ask us what CFO means. We have been conducting training sessions and trying to educate the people about the need for a good CFO and how different we are from say a chartered accountant or a tax consultant. We also try and tell people that we don't merely advise, we execute!
What has the response to your firm been like?
Very encouraging, I must say. Business has been trickling in. The word of mouth has helped immensely. We haven't gone about publicising. And yet there are companies that continue look to us for advice and recommend us to others.
Who is the CFO of Super CFO?
(Laughs) Well we don't really have a CFO per se. But to a certain extent I play that role. But we have a great team that handles finance and accounts.
What according to you are the most common mistakes that start-ups make?
Firstly, many of them ignore compliances and accounting, and hope that their chartered accountant will fix the lapses for them at the end of the year. Moreover, during my various associations with different start-ups, I have noticed that because of lack of experience, these folks are not able to raise adequate money even though they have the potential to do so. Also -- perhaps because of the lack of experience -- these people are unable to negotiate with banks and financial institutions.
Most start-ups don't know how to strategise for growth. They might be thinking big but most of them don't know how to go about attaining their objectives.
Finally, I believe that start-ups must share their profits with their employees -- simply for putting their trust in them. If you leave something back on the table, you are sure to win in the long run.
What would your advice to young entrepreneurs be?
First and foremost: don't be hasty. Think through your idea and don't lose heart if you think something is not working. Very often, as start-ups, we expect miracles to happen. When I started Super CFO I was prepared for the worst-case scenario. I thought I wouldn't get an assignment for the first couple of months. Thankfully I didn't have to wait for that long and things started working in the first few days itself.
How did your family take to your decision of starting Super CFO?
Very well! My wife has always been supportive. In fact when we were about to get married, I joined CBay Systems as their first employee.
When I told my family about my decision, my father also assured me of his support. He told me that I shouldn't worry about bringing in money immediately but concentrate on setting up my business. That was a huge relief. But I knew that it wouldn't be long before I stood on my feet.
What would you suggest to young professionals stuck in the wrong job?
Finding a new job can be quite difficult in times like these. But if you feel stagnated in a job you have just two options -- you either grin and bear it or leave. If you can't do the latter you need to list down reasons why you have to stick to the job. And remember those reasons when you want to quit. I don't particularly appreciate people who crib. There is always a way out.
And what about those who have lost their job?
I am not one of those people who would encourage people to start an enterprise if they've lost their jobs. Firstly, assess yourself and find out if you are an entrepreneur or not. If you aren't, look for another job. Don't force entrepreneurship on yourself. Realign your expectations and be positive at all times. Besides that I cannot advise much. Each person has to figure out what s/he can do. As we tell our clients, solutions need to be customised.