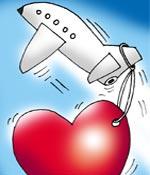 Last week, we discussed airline bloopers and invited readers to share their air travel stories with us. Here, reader and frequent flier Krati Dhoot shares one of his experiences. Illustration: Uttam Ghosh
I am a management employee in the power sector and have to fly frequently to exotic destinations to visit power plants. My annoying airline experience took place when I was flying for work between Kolkata and Delhi.
A well-dressed and accessorised gentleman in his mid 40s happened to be my co-passenger on the SpiceJet flight. He made it a point to request the stewardess for two bottles of water every 15 minutes. He would subsequently put them in a previously empty carry bag that he was carrying.
Somewhere during this time, the stewardesses brought out the small red kit that SpiceJet distributes to keep the children on board occupied. My neighbour promptly asked for two. Noticing that he was unaccompanied by children, the stewardesses explained to him that they were colouring books for children (implying that he had no need for them). He still insisted that he wanted two, one for each of his two children. When the stewardess tried to be a little firm, he yelled that it was not his children's fault that they were not on the flight and how would it look if he went home empty-handed (I mean, hello?). The stewardess finally conceded (while the natural mineral water collecting continued).
While disembarking, he lugged his water bag (which was considerably heavier now) and children's entertainment kits and then walked towards the exit. At the exit he made it a point to shake hands with all the stewardesses and I think he actually tried to embrace one.
This got me thinking -- was the constant hogging of goodies for the sake of the goodies themselves, or for the indirect company of the pretty stewardesses? A bit of both, I guess.
Although it was funny at the time, the incident really got me thinking about the kind of integrity and values that we project when we are surrounded by strangers who we are unlikely to meet again.
Also, it is disconcerting to see the way in which a lot of the passangers treat an airline's front-end staff. Yelling and getting physical is out of line. I think, it would do us good to remember that the stewards and stewardesses are educated, intelligent and hard-working people who have had their share of hardships in embracing the career of their choice. It's not an easy profession. Their job entails customer comfort and delight and they will be able to do it best if not hassled by misbehaviour.
I have had similar experiences of goody-hogging co-passengers and pervy little men many times since, but the first time sticks the longest!
Do you have an interesting, amusing or downright annoying airline experience to share with us? Send us your story at getahead@rediff.co.in (subject line: 'Annoying airline experience') and we'll publish the best ones right here on rediff.com