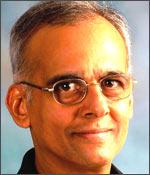 Andrologist and microsurgeon Dr Sudhakar Krishnamurti will be responding to rediff readers' sexual queries on a regular basis.
We invited Get Ahead readers to mail in their questions. Here is the next set of responses:
---
Dear Dr,
I am a 42-year-old male with 2 kids, not financially strong -- just a lower middle class man.
Since some time now, I've lost my interest in intercourse. Whenever I am in bed I don't feel like having sex. Even when I am aroused or seduced, I do it, but without interest and just for the sake of my wife. Sometimes she is satisfied and at other times not. But I don't enjoy it at all.
I don't know the reason, maybe early discharge or God knows?
My family is disturbed for this cause.
I want to enjoy sex. Please suggest some nice medicine so that I can regain my and my wife's happiness.
Thanks,
Deepak
There are many reasons why this may happen. You need a proper andrological evaluation. You could be suffering from depression, your relationship could have gone stale, there may be female factors, you could be going through andropausal transition. Chapter 18 in my book Sexx is Not a Four-Letter Word (www.sinaflw.com) addresses this.
---
Hello Dr Sudhakar,
Good day, hope you are fine...
Doctor, I have one amazing sexual problem. I'm a 26-year-old male, married 4 years ago. For the first 2 years of my married life, I did not had intercourse with my wife because of some financial issues -- I was too heavily tensed. But we used to have foreplay like kissing and all...
After 2 years, our life and financial condition has improved a lot and now we are based in Africa. Financially we are sound now and we are planning for a baby. But I don't know, due to some reason I cannot come during intercourse. Not even one drop is coming out.
Further, FYI I have a strange way of masturbating -- I used to mastubate when my penis was not erect. I have this habit now from the last 10 years. I keep my palm (hand) on the penis (when not erect) and sleep on the floor and start moving up and down. Doctor, please, I need your help very much. While having love with my wife on the bed ,my penis gets an erection and everything is normal...but anyhow, I cannot come.
If possible, give me your phone number, I would like to talk to you personally or just email me personally..
Hope you will reply at the earliest.
Regards,
Jammy
It is quite clear that you are in deep trouble and will need a proper andrology work-up. Yours could be a case of what is known as delayed or retarded ejaculation. Chapter 19 on my book Late Comers and Marathon Men, addresses this in some detail. Our phone numbers are available at the bottom of the Andromeda web page ((www.andrology.com).
---
Hi,
I am a 22-year-old guy. I have tried having sex some 3-4 times earlier with my partner. On all occasions, the foreplay has been good but I am never able to reach the peak of my erection.
Whenever I feel I am ready to enter her and put on the condom, either my erection loosens up or after just entering I ejaculate.
I really feel bad now that I am never able to perform, so please suggest how to cure this problem.
And I would also like to know if the over-the-counter drugs like Viagra are useful.
Thanks.
The question here is whether your erections are as poor as you describe, only when you attempt intercourse or whether they are poor at all times. If you are able to obtain good erections in some situations, but not in others, then it is the situational problem that needs to be addressed. For this, you will need a consultation.
I strongly discourage you from using dubious OTC drugs. Pfizer's original Viagra is now available in India, and has been shown in studies to be the only drug capable of providing a maximal erection hardness score (EHS) of 4 points on a five point scale of 0, 1, 2, 3, 4. Other Indian generics are available too.
---
Dear Sir,
I had oral sex, without a condom, with a commercial sex worker a few days back. We then had vaginal sex, but used a condom for this.
During the oral sex she vomited on my penis while performing the act, as my penis went too much inside her mouth. Now I am worried that I may have contacted HIV. Please tell me if it is possible.
Also please tell me the symptoms that I should look out for in case I have contacted HIV. Within what time will the symptoms show themselves?
Regards,
Rahul
You do not seem to understand how dangerous your acts are. Since you do not know the HIV status of the sex worker, you must consider yourself at risk till proved otherwise. And HIV is not the only thing you need to worry about. There are many other risks. You need to see an STDs specialist immediately.
---
Do you have a question for Dr Krishnamurti? Simply e-mail him at sexualqueries@rediffmail.com; responses will be published each week and names will be withheld upon request.
Dr Sudhakar Krishnamurti is an international award-winning andrologist and microsurgeon. He is the only Indian on the world's first-ever batch of sexual medicine fellows (Oxford, 2007). Best known for the Krishnamurti Operation for Peyronie's Disease, he is also the founder of Andromeda, India's first andrology center, and author of the book Sexx is Not a Four-Letter Word. Click here to purchase the book from rediff Shopping.
Disclaimer: Please note that Dr Krishnamurti will be answering the most relevant queries at his discretion each week. His advice may not necessarily reflect the opinions of rediff.com and while it is in the capacity of professional medical counselling, it in no way should be considered an alternative to visiting a medical specialist for sex-related ailments.
Illustration: Uttam Ghosh