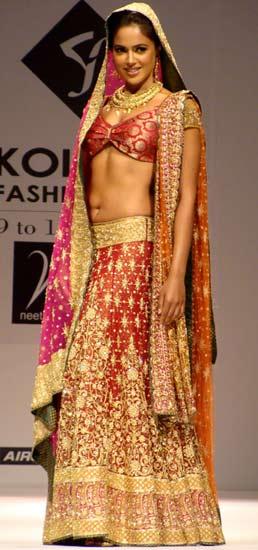 Actor Sameera Reddy sizzled in a red-and-pink Neeta Lulla ensemble as she walked the ramp on Day 3 of Kolkata Fashion Week (KFW) II [Click here to check out the collection]. A tete-a-tete with India Blooms correspondent Sreya Basu. Photograph: Avishek Mitra
You look gorgeous in the lehenga.
Thanks. But it's not as heavy as it looks. The outfit looks so rich, but not at the cost of comfort.
Of late you have shed oodles of weight. What is your fitness funda?
I have recently changed my fitness regime. Instead of hitting the gym every day, I am now into swimming and yoga, and the results show (smiles). Anyway, I don't believe in Size Zero. I want to have a feminine body. As it is, Indian men love a little flesh on their women.
What is your fashion statement?
I don't follow a particular fashion trend. My funda is be confident and you will automatically look different from the lot; that's the best style you can get.
Are you brand conscious?
Hmm, a mix, I'll say. I can wear a pair of jeans that's not branded with a smart branded watch.
Who do you think is the best dressed Bollywood personality?
It's Shilpa Shetty. She has a great body and can carry all clothes with such style and panache!
All you three sisters (Sameera, Sushma, Meghna) have walked the ramp. Who do you think is the best among the three when it comes to modelling?
Sushma has style in everything she does. She is the best among us on the ramp too.
Sushma is participating in Khatron Ke Khiladi Level 2...
I watch the show every day and have my fingers crossed. My mother is praying throughout the day for her victory. My family is so proud of her.
Given a chance, will you participate in such a show based on dangerous stunts?
I don't think so. I am too feminine for shows like Khatron Ke Khiladi. I can't even dare to dream what Sushma is actually doing on the show.
What films that we can look forward to seeing you in?
There's De Dhana Dhan with Akshay Kumar and Nagesh Kukunoor's film Yeh Hausla, which will release on Women's Day.
And are there any plans of getting married?
I am single now. But when I get married (I don't know when), Neeta Lulla will make be the most magnificent bridal outfit that will turn out to be the style statement of the century.