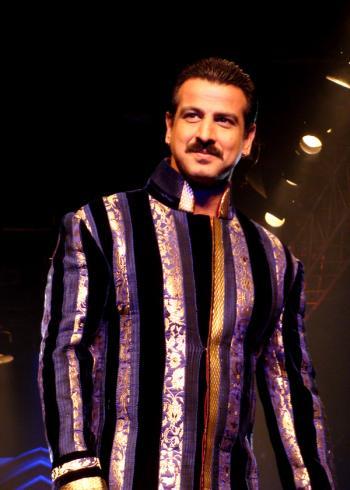 For the first time ever, actor Ronit Bose Roy walked the ramp and that too for Manish Malhotra at the Kolkata Fashion Week (KFW) II. He gets into a Quick-5 with India Blooms correspondent Sreya Basu. Photograph: Avishek Basu
How's it like walking the ramp for Manish Malhotra?
It is one of the greatest moments of my life. First, because I debuted on the ramp at this age with so much weight, Second, because I know Manish since he was a model. So it has been a long association and it was an absolute previlege.
And, what about debuting on the ramps in Kolkata?
Of course, how can I forget that! I like walking, talking, eating, drinking... everything in Kolkata.
You are wearing a textured sherwani... nowadays, you seem to have become synonymous to traditional Indian man...
Thanks for the compliment. But you should give the credit to my character in the television serial Bandini that has made me wear dhotis and kurtas all the time, and Manish who made such an unique outfit for me.
Do you enjoy wearing traditional clothes?
Yes, very much... I am a true blue Indian.
What's your style statement?
Not to stick to a particular style but to keep on experimenting, but sensibly. I won't go for a look that doesn't go with my personality just because that's in fashion.