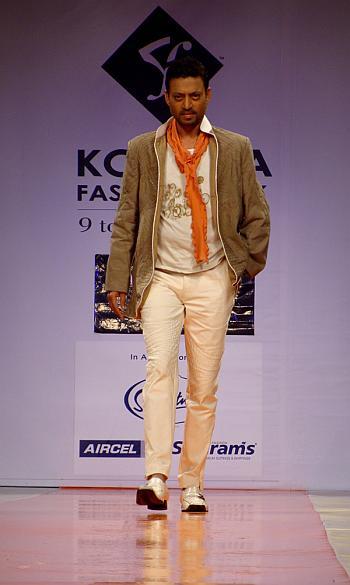 Actor Irrfan Khan rocked the ramp at Kolkata Fashion Week (KFW) II Sunday as showstopper for designer Abhishek Dutta's 'Tomorrowland'. The actor in a chit-chat with India Blooms correspondent Sreya Basu. Photograph: Avishek Mitra

How do you feel after walking the ramp for the first time in Kolkata?

I love the trousers... the T-shirt (though I generally don't wear T-shirts)... the orange scarf and the jacket. The combination looks very sleek and international. When Abhishek (Dutta) mailed me the pictures, I was a bit apprehensive and after wearing them on the ramp, I feel completely different! I am liking it... I am really enjoying standing in front of you wearing this (smiles). But I felt a little shy of all the cheering that was going on when I walked down the ramp.
What is your style statement?

It depends on the occasion. I generally wear normal clothes... nothing extraordinary. I consider comfort first and then style. I believe that comfort should create style not not the other way round.
Now that you are an international star, do you travel with your hairstylist and fashion designer all the time?

I don't have much hair for keeping a hairstylist (pointing to his neatly cropped hairdo)... I need hairstylists only occasionally; and I also don't have a particular fashion designer or stylist. But my make-up man travels with me.
Almost all Bollywood actors are into product endorsements. Given a chance, what products will you endorse?

I will never endorse products that I can't rely on. I will never endorse pan masalas and liquor, although I keep getting offers for such products.
Did you ever think of walking the ramp when you started with films?

Not at all... and by the way, there were no ramps when I first started with my profession.
What do you like to see a woman in?

That depends on how she carries an outfit. Indian women look best in saris. But nowadays, girls can carry Indo-western clothes quite well.