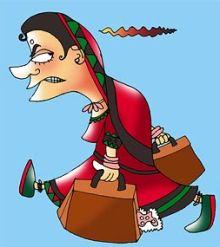 Bangalore ladies are coming together to break social stereotypes and be heard, reports Vicky Nanjappa.
What's the punishment for bigamy?
Two mothers-in-law.
Now that's a joke Neena Dhulia from Bangalore would not be pleased with! You guessed it -- she is a mother-in-law. But Neena is also the co-ordinator of the 500-strong All India Mother-in Law Protection Forum (AIMPF).
The Forum was born on September 6 with a loud and clear message: We are not what we have been made out to be in saas-bahu serials.
"Enough is enough," she says adding, "It is time we too ensured that our voices are heard."
Neena points out that even though there is a National Commission for Women, it is unfortunate that they don't listen to the grievances of a mother-in-law with the same enthusiasm that they listen to the complaint of a daughter-in-law. "Why this discrimination?" she asks.
The response, according to forum members, has been great. It started off with 50 women and ten days later the strength has grown to 500!
Members claim that the forum has generated a lot of interest, not just within the city but also nationally.
And like every growing organisation, this one has plans of expansion too. "The Nagpur and Chattisgarh wings will open up in a few days' time while wings at Delhi and Mumbai are on the anvil," Neha says.
Thank the harassed husbands
If you're wondering how this brilliant idea came about, you probably have to thank (or curse) the harassed husbands.
Save India Family, which works for harassed husbands, conducts periodical meetings at the Cubbon Park in Bangalore. The mothers of several of these husbands accompany them to these meetings.
According to Neena, it was during one such meeting that the germ of the idea was born.
Over cups of tea, it was decided that mom-in-laws needed a voice too. "We realised that we also need to form a group of our own to forcefully put our points across," she says.
Moms-in-law are not bad!
Indeed, that is the message that the forum wants to get across. Members told rediff.com that they want to wipe out the mental image from society that the mother-in-law is always the bad one in a relationship.
Says one, "There have been many cases where women have filed false complaints against their husbands and mothers-in-law and walked away with the booty. We have tried going and convincing the NCW about our problem but they have not been kind enough to us. It is worse when we are dragged into police stations. Without uttering a word, the police take into account what the wives have to say. In fact, they entertain verbal complaints and without so much as bothering to inquire into the allegations, they harass us. We think that if we stand united through this forum we can ensure that we too are heard."
Wake up, Ekta Kapoor
The other objective of the forum is to ensure that the soaps on television stop showing the mother-in-law in such bad light.
According to Neena, women grow up watching television serials where the mother-in-law is depicted as a vamp. The wife walks into her husband's house with that image in mind, which causes all the problems.
"We are not vamps or villains as television serials make us out to be. It is time we change the stereotype thinking -- it has to happen immediately. Statistics show that many women today are independent and cannot be overpowered. And with the law in their favour, they don't hesitate to misuse it," Neena says.
With like-minded people joining them every day, members of the All India Mother-in Law Protection Forum promise that they will not rest till 'the image of the mother-in-law is changed in the eyes of the society'.
So the next time you take a dig at your mom-in-law, think again.
Illustration: Uttam Ghosh