Move aside Shah Rukh Khan, Vijay Mallya, Mukesh Ambani, Preity Zinta and Shilpa Shetty! If they are spending crores on buying talented cricketers for their respective teams you can spend much more -- Rs 100 crore to be precise -- to buy players for your own dream team.
However, while all these moneybags are spending real money you get to use virtual money to buy your players. That's what a three-month-old startup Dream11.com is offering Indians, who, the founder and chairman-cum-managing director of the company Harsh Jain thinks, "are born with a bat in their hands".
An avid cricket fan, just like his four co-founders, Harsh pooled in "some money" from the family business and started a portal that allows users to register and make their own 'Dream 11'.
Once you are registered you can select 12 players (11 playing and one extra) who are assigned prices based on their age, form and other intangibles using a complex algorithm. Yet another algorithm works behind the scenes and assigns points to each player in your team based on their performance for a particular team.
For instance, based on Sachin Tendulkar's current form he has been priced at a whopping Rs 9.6 crore. If you select Tendulkar then you will be left with 90.4 crore to buy the remaining 11 players.
The co-founders -- all of them 24 years of age -- seem to take their cricket very seriously. And it is this reason that being an avid cricket fan adds weight to your resume if you want to work with Dream11 where the average age of employees is 27 years.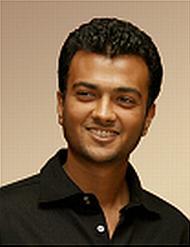 With the cricket season just beginning and India having won the recent Tri-series cup in Sri Lanka rediff.com decided to meet Harsh Jain and quiz him about his brainchild.
How did you hit upon the idea?
Most of these ideas come about when you talk to people about doing something different or doing something better. My friends and I play a lot of fantasy football and were amazed at how it has really taken off. We were surprised that fantasy cricket has not really taken off in the world or in cricket-crazy countries like India. So we decided to emulate fantasy sports and get fantasy cricket going in India.
While three of us are directors, the other two are involved as investors. The company is privately funded by all of us with generous help from our family businesses.
Challenges you are facing as a startup...
We launched three months back. As a start-up when you get an idea you are obviously inspired and motivated. You are excited about starting something new and getting appreciated by the people.
Our experience would resemble that of many entrepreneurs. You start up thinking everything is going to be much easier than it actually is. But once you really get into it you actually understand the challenges.
But coming to your question, some of the major challenges are starting an entire business from scratch, recruiting skilled people because we were quite picky in our recruitment; we didn't want to give it to some HR consultant and tell them about our people requirement. We actually interviewed each and every person and handpicked him/ her ourselves. That was one of the more laborious challenges.
When you start a company you think of buying or renting some place and start a business. Then you understand the importance of having systems and processes in place.
How did you convince your colleagues about your idea?
As I told you we have been friends since our school days and share same kind of interests. We all have huge interest in sports and have actively participated in fantasy football. Also, we are all cricket enthusiasts and share the same passion and emotion when it comes to cricket. We all know how much every Indian loves cricket which basically was the root of Dream11.com.
Hence we thought that if people like us (Indians), who are born with a cricket bat in hand, could have so much interest in fantasy football then there ought to be a huge interest in fantasy cricket.
How do you plan to generate revenue from this business?
Revenue is basically generated through ads. Also, while providing with run-of-the-mill ads we also thought of doing something completely different. We will provide smart advertisement with Web site sponsors. You go to any web site and you have standard banner ads. The global Internet audience has seen this kind of a business model. We are looking for something much less intrusive and something that will fuse with the content on our Web site.
So we are looking at allowing brands of our advertisers mesh along with the content and give the advertiser's message through the content.
We provide in-game advertising to our advertisers by allowing them to put their logos on the cricket ground which does not intrude with our users' experience. This helps our sponsors get more mileage of their advertising.
What does fantasy cricket mean for a layperson?
Let me explain. For instance, when squad selection comes up for any cricket tournament there is a lot of buzz around who will be picked up, who should be picked, who should be left out, whether India should have selected more all-rounders than batters etc. These debates form the basis of fantasy cricket, which allows our users to select their own squads for any given tournament and watch their progress once the tournament starts.
So with Dream11 every user can now go online, we give her/him a certain amount of money, we price the players based on a very complex algorithm that we have developed on the basis of a player's form and other intangibles. And we give them a price for each tour. Every user can select a number of players till they exhaust the budget of Rs 100 crore of virtual money we give them.
That is what gives the kick to our users. Buying good players who will perform for her/his team. An algorithm that works behind the scenes captures the runs scored, wickets taken, run-outs executed etc, and based on this calculates points for each player in a team.
Ultimately, the user with the maximum points gets ranked first amongst all the other players and gets a kick by letting others know of her/his cricketing acumen. It is the feeling of owning the best team from amongst all the users on board that makes a user feel happy apart from the gifts that we give to winners of the contests.
Tips for entrepreneurs like you from lessons you have learned...
I would suggest that young entrepreneurs should do their homework thoroughly and know what s/he is getting into. Because problems arise when someone becomes famous, or things start working.
Who is your favourite cricketer?
It has to be Zaheer Khan. He is someone who has been consistent over the years. It's not only about raw pace. He's proved that once you are a seasoned cricketer even if new boys come in with more pace he can stand his ground. He delivers day in, day out and the fact that he is not one of those people who is overly aggressive or too timid, but shows aggression when required is what I like about Zaheer's temperament.
What kind of people do you hire for Dream11?
When we hire we look at people who are excited about working in a start up; who don't mind getting their hands dirty because when you are working in a start-up there are times which will test you, will require you to work outside your job description because in a start-up things do come up more suddenly than in an established company.
Apart from that we look at people who are young, innovative, hard working and want to take up a challenge and wholly committed to the company. Average age profile of our employees is 27 years.