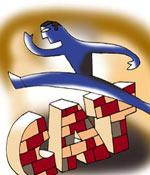 It's no breaking news: this year's CAT exam will be a computer-based one. However this has got many aspirants worried sick. What's more, besides CAT, MAT will also provide an online option for students. The reasons for worry are more amongst those who are not acquainted with computers and the most common questions being asked are:
a. Will there be any major difference in the kind of questions that are given in the CAT?
b. How will the number of questions change ie will they be more or less?
c. Will the test become tougher or easier?
First things first: it is unlikely that the computer-based version of CAT will be drastically different from the older one in terms of the nature of question. Indeed the format will be different but the difficulty level is likely to be comparable to the older version itself.
As a matter of fact there have been strong indications that the number of questions may actually decrease! Besides, the test will certainly not be computer-adaptive (like the GMAT exam).
All you have to do is choose the questions you wish to answer, solve them and then use the mouse button or keyboard to mark your option. You will be given a rough sheet for your calculations.
How to prepare for the computer-based Quant section?
To crack the computer-based Quant section, you need to remember a few points:
1. Since the stress will be on the application of fundamentals, your knowledge of the basics is extremely crucial.
2. Figure out how you will solve a question before actually attempting it.
3. In a computer-based test, the ability to do mental calculations successfully will help you greatly. Improve on this by practicing regularly.
4. Use the answer choices for solving questions. Sometimes you will find that you can adopt a strategy of plugging in the various answer choices and checking which one works. This is particularly useful for algebra-based questions.
5. Eliminate options and narrow down your choice. Very often, after a step or two towards the solution, you will realise that some of the answer options are clearly wrong. Eliminate these and see which of the ones left works.
6. Use shortcuts but exercise caution. As far as mathematics goes, there may be just one correct answer but multiple ways of obtaining it. You can well go for the shortest way possible. In fact in a computer-based test, using short cuts may be even more useful. But it is important that you exercise caution while using shortcuts because they may not apply in all types of questions.
7. To score well in this section, regular practice is a must. Try solving a minimum of 25-30 questions on a daily basis.
8. Even in the computer-based version you must choose your questions wisely. Do not spend too much time on a particular section and neglecting the others. Remember that there are sectional cut-offs!
9. Within the Quantitative Ability section itself, there will be questions on different areas, such as geometry, probability, simple and compound interest, ratio and proportion, logarithms, permutations and combinations, arithmetic and geometric progressions etc. It is unlikely that you will be equally good in all areas. So understand which type of questions are your strengths and attempt them accordingly. Remember that in the computer-based version of CAT, you are allowed to mark certain questions and return to them later. You could do this for questions belonging to a topic that you are comfortable with, even if you are not able to immediately solve the question.
10. It is important to maintain relatively high accuracy levels in this section, as the ambiguity is much less than for a section such as Reading Comprehension. Avoid guesswork and do not attempt questions blindly. Mark the questions that you wish to return to later. Make educated guesses only after trying to eliminate options that seem clearly wrong.
The author is an MBA from IIM Calcutta and is the author of An Introduction to the CAT-Tips from an IIM alumnus. The book provides a scratch card to access several computer-based tests and is an A-Z guide to preparing for MBA, including how to prepare for Case Studies, GDs and Interviews. He can be contacted at bsiddharth_2001@yahoo.co.in