The home loan application form stared Satish and his wife Sharmila in the face. They were first time loan seekers and had no idea about how to go about applying for a home loan.
Ever since they got married two years back they had planned to buy their own house. And they had toiled through this period to add an amount decent enough to pay their share of the money to the seller. The rest, they thought, would be a cakewalk as they had heard from their family and friends about banks that offer home loans to salaried people to purchase their dream homes.
And now they were looking at the home loan application form of a bank not able to tell from down payment, loan eligibility, EMI, processing fee etc.
To make matters simpler for Satish, Sharmila and first-time home loan seekers let us look at some of the important terms one should know while applying for a home loan. While many of you may find these very useful those who are masters can post their bit on the message board below.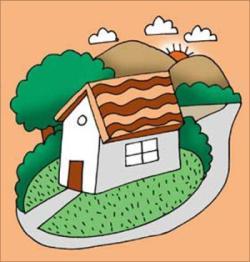 1. Principal amount
The principal amount will be the loan amount for which Satish and Sharmila has approached the bank for a home loan. 
The young couple had chosen a one-bedroom apartment that would have cost them Rs 20 lakh out of which they had already saved Rs 4 lakh and needed the balance Rs 16 lakh as loan amount.
2. Down payment (margin amount)
Banks require a loan seeker to contribute certain amount while buying a home. It can be in the range of 15 per cent to 30 per cent of purchase price depending on your lender and loan seekers credit history / income.
Satish and Sharmila had saved Rs 4 lakh for their home with which they could pay at least 20 per cent (Rs 4 lakh is 20 per cent of Rs 20 lakh) as down payment.
However, applying for loan with a bank that requires lower amount of margin is always beneficial. If the bank asks for only 15 per cent as down payment it would save Satish and Sharmila Rs one lakh which they could use to renovate their house if they so wish.
3. Loan eligibility
This is the amount that a bank will loan to customers like Satish and his wife after discounting their gross salaries and personal credit history. Each bank has certain set of calculations to derive loan eligibility from loan seekers net monthly income.
Example: Let us assume that Satish's monthly income is Rs 15,000 and Sharmila earns Rs 10,000 taking their total earning to Rs 25,000 per month. Let's assume that the bank has specified that loan eligibility will be 40 to 60 times of net monthly income of loan seekers. Then we can derive that the couple will be eligible for a loan amount of Rs10 lakh to Rs 15 lakh. Which means that Satish and Sharmila will have to make up for the shortfall (Rs 4 lakh of their own savings + Rs 15 lakh from the bank; therefore the shortfall is Rs one lakh) from somewhere else.
4. Co-applicant
It means joint loan applicant. Co-applicant can be father, mother, son, spouse or brother. Having a co-applicant who is earning regular income through business or monthly salary helps increase the loan eligibility.
In our case, Satish's and Sharmila's loan eligibility has increased because they have clubbed together their incomes to buy the home and Sharmila has agreed to become Satish's co-applicant.
Satish alone would have been eligible for a home loan of Rs 6 lakh to 9 lakh where as Sharmila alone would get a loan of Rs 4 lakh to 6 lakh (assuming the bank gives a loan that is 40 to 60 times their net monthly incomes).
However, since they have clubbed their incomes their home loan elibility increases tremendously.
5. Type of interest rates
There are two types of interest rates: fixed and floating rates.
Fixed interest rate
In this type of home loan interest rate remains same for the entire tenure of a loan. But, few banks offer the option of interest rate to be reset after two to five years on the basis of their prime lending rates (BPLRs). Also, few banks give the option to switch either fixed or floating interest rate after completing five years of loan.
Example: If the bank is giving home loan at 10.75 per cent per annum fixed interest rate throughout its loan tenure then it will be eligible for a reset at end of every two years based on this bank's BPLR.
Floating interest rate
Interest rates are linked to BPLR and change frequently during the tenure of loan.
For example if Satish and Sharmila avail of a floating rate home loan and if interest rates go up or down the floating rate on their home loan will also move accordingly.
6. Equated monthly instalment (EMI)
This is the amount that a borrower has to pay to the bank every month for a given period of time (loan tenure) and this depends on the interest charged on your loan. Satish and Sharmila will have to pay EMIs to the bank for the loan they are seeking to purchase their house.
7. Processing fees
Bank charges certain amount of fees to process the home loan. It differs from one bank to another. Few banks will have nil amounts of fees whereas others may charge 0.3 per cent to one per cent of loan amount.
Example: If Satish's bank charges him a processing fee of 0.5 per cent then he and Sharmila will have to shell out Rs 7,500 (0.5 per cent of Rs 15 lakh) plus taxes as processing fees to their lender.
8. Pre-payment charges
There are bank charges involved if one is pre-paying (paying the entire outstanding amount before the end of tenure) the loan amount. Different banks charge different pre-payment amounts.
Usually, charges are in the range of 0.5 per cent to two per cent of the prepaid amount.
Example: Suppose Satish and Sharmila, two years after paying their EMIs, feels that some other bank is ready to lend them money for an EMI less than what they pay their original lender, and think about changing their lender. They can do this by taking a new home loan from this new lender and repaying the outstanding amount to the original lender.
But there is a cost involved here. The existing lender will charge Satish and Sharmila a penalty for transferring this loan. This is pre-payment penalty.
Now that Satish and Sharmila learnt some hard facts about home loans they are wiser and the home loan application form was no more as scary as it looked in the beginning.
The author is a certified financial planner