As CAT 2009 approaches, the pressure on B-school aspirants is mounting. Strategising, mock CATs, time management -- each have their own importance and value when it comes to making your CAT attempt meaningful.
To help test-takers, we asked readers who have taken the CAT to share their tips and tricks. Here, Rahul Sharma, IIM Lucknow -- batch of 2010, shares his experiences.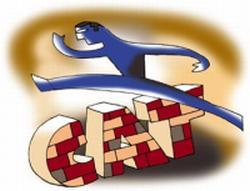 This time of the year the word 'CAT' brings to mind intense competition where thousands of aspirants try to grab the much coveted seats of prestigious management institutes.
As the day draws closer I would like to share my views on the exam which I could convert in my second attempt.
First and foremost, getting the 'feel' of the exam is as important as the preparations one has done for the exam. I can honestly say that I had prepared for CAT 2006 in a more structured way than for last year's exam but it was the experience of handling the exam which made the difference.
I will concentrate on handling the paper for those crucial 150 minutes:
Know your strengths
The exam is all about 'maximising your strength'. Try to gain maximum advantage from the section you are strongest in. For this you can start off with the same section and try to get a good kickstart. Now, a word of caution for those who consider the 'verbal section' their forte. For the past two years this section has proven to be the knockout one, so it would be recommended that you start off with the second best option.
Number-word-number
Candidates can try out the trick of attempting the verbal section between the two numerical parts. This might help in relaxing the mind by avoiding the gruelling exercise of dealing with numbers continuously without a break.
Buffer time
Each section has to be given equal respect. The B-schools are very particular about high performance overall. I believe the best way to allocate time is by giving 45 minutes to each section and then taking the last 15 minutes of buffer time in either maximising your score or improving some section. More specifically the best practice should be to attempt some individual questions in the Quant section in that buffer time.
Be high on confidence
Irrespective of your level of preparation it is your level of confidence that can make or break your day. Remember it is just those 150 minutes we are talking about so being fresh and confident can make all the difference.
Be healthy
Needless to say a sharp mind can sit atop a healthy body only. Try to remain healthy for this duration. Especially on examination day, eat light. Anyway, you can compensate with a special dinner later.
All said and written remember, there can be no clear-cut strategy charted out for one's success. A lot depends on the strengths and weaknesses of an individual. The best you can do is work on your weaknesses and improve on your strengths
Have you aced the CAT? Do you have tips that could help students improve their scores or stress-busting strategies to beat pre-CAT nerves? Send in your advice to getahead@rediff.co.in and we'll publish your strategies right here on rediff.com.