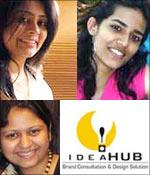 They were three disinterested advertising students attending lectures because they had to and gave the impression that they'd end up nowhere. Today Yashi Desai, Dipti Doshi and Frenny Shah run Idea Hub, an advertising agency that counts the likes of Glenmark Pharmaceuticals amongst its clients.
Yashi Desai, an advanced 3D animation expert says, "We were never the bright ones in class. Although no one said anything, the general feeling was that the three of us would get nowhere and end up doing nothing in life. Then Idea Hub happened."
While they never equated academic performance with success they were also very sure that one day they'd run their own agency. They did work for a firm and were earning a decent pay packet till they decided it was time to move on.
Doshi says that they chose to start something on their own rather than work for another agency because 'most agencies lack something or the other'. She adds, "If they do offer all services, they charge exorbitant fees. What sets us apart is that we cater to all our clients' needs at an affordable rate without compromising on quality."
Doshi, who is currently pursuing her Masters in Communication and Journalism from Mumbai University, agrees that initially it was difficult to convince clients about their abilities. "There was a lot of struggle involved. It did not come easy and we made a number of pitches before the first one finally agreed," she says, "Then there was the challenge of hiring. Since we are a self-funded start-up, we couldn't hire people and instead chose to work with freelancers. It's only now, a year after being in business, we're looking at move to a bigger place and hire new employees. This means we will be able to take on more work."
They say they started with a modest investment of Rs 15,000, which they took as a loan from their parents. Today they have not just recovered the money but are also making profits.
Interestingly, the three were drawing steady paycheques before they decided to give in to their need for something more 'adventurous and flexible'. And the families supported them but there were other challenges to meet. "Being girls we couldn't fix meetings late in the evenings. Then there were weeks when there was no money or work and this began slowing us down. It hits you even more when you see all your friends going ahead in their careers and you start having moments of self-doubt. Yet we knew we just needed to be patient and wait for things to start working out. And they did!" Yashi Desai shares.
As of now, the trio is focussing on expanding their portfolio. They realise that recognition will come slowly but surely. It is in these moments of doubt that they recall the time they signed their legal documents and brought Idea Hub into existence.
Legalities are high on their proprieties list. Desai's advice to young entrepreneurs is, "Make sure you have everything perfect when it comes to legal formalities. It will help your firm grow faster. Always be fair when it comes to legal matters. Besides that you simply have to work hard, have fun, dream big and make sure they come true. We get one chance to live our dreams and if you want to play this game then make sure you play to win."
Courtesy: Yourstory.in