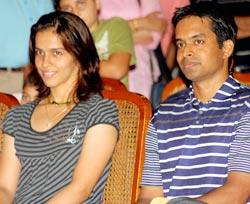 Former all-England badminton champion Pullela Gopichand has been honoured with all the major sports awards -- the Rajiv Gandhi Khel Ratna, Arjuna and Dronacharya. His experience taught him a lot and today, he coaches badminton champ Saina Nehwal. Gopichand tells Urmila Rao of Careers360, how his career took shape:
Was badminton always your career goal?
I would have become an engineer rather than a player had I cleared the IIT entrance exam. My elder brother, who was as good a badminton player as me, was lost to the game as he had cleared the same exam a year earlier.
Were your parents okay with the idea of your playing?
My mother got very worried when I decided to take up badminton full-time. She began applying to various organisations on my behalf and I got a job with the Tatas when I was just past 18.
How did you react?
It reflects the kind of concern parents have for children pursuing sports in this country. And it was largely true, specially
till the 1990s, when it was not easy to pursue a career in sports. The Indian education system is such that it does not allow flexibility for sportspersons. Classes 10, 11 and 12 are critical, and this is a crucial period for a sportsperson. That is the time he or she has to decide whether to pursue sports or not.
Any suggestions for the system?
If our system allowed a student to go out and give his best shot to sports and come back to academics to become, say
a doctor, it would have been different. Unless students get the opportunity to get back into the mainstream, the decision
to put academics on the backburner will not be easy. But things are changing and today you can think of a decent living by pursuing sports. With better administration, Indian sports will produce not only more champions, but also give employment to a lot of them.
How was your school life?
I always wanted to get away from classes to be on the badminton court. I bunked classes and skipped exams to
participate in tournaments, so I was not popular with some teachers. Overall, school was good but not really a  favourite. However, on occasions when I won tournaments and had public receptions, it made me happy.
You maintain that sportspersons in India are better off when compared to those in some other countries?
With all our disability, I still say sportspersons in India are really blessed. Today, I work as a senior manager in Indian Oil Corporation, and all my other fellow sportsmen too got jobs somewhere or the other. So the next 40 years of your life, you are assured of a job. We have a quota system where a sportsperson can get a job with the railways or banks or a public sector unit after he retires from active sports.
What mantra do you live by?
Pick a profession that is fun for you. For me, discipline is fun, purpose is fun. Without purpose there is no fun. The other important thing is not to get too excited with successes or too depressed with failures. It's a cycle. So stay calm. The important thing is to live passionately.
Photo caption: Pullela Gopichand with Saina Nehwal