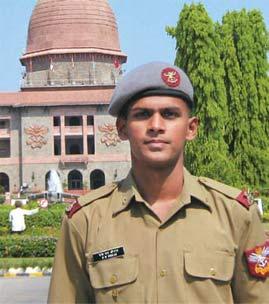 Joining the forces is a dream come true for NDA (2009) topper Cadet S M Sriram. The first Keralite to top the exam, he came to know of his selection only after he had joined engineering college. He dropped out of college "the very same day" he got the news. The 18-year-old talks about life at the Academy and why he chose the Indian Navy.
What was your first impression when you arrived at the academy?
I was with my father when I entered the premises; and I am not exaggerating when I say this: I was simply awed by it.
Only upon reaching the academy did I get an idea of the life I had chosen and I was proud of it. By afternoon or so we were allocated our squadrons -- I am in Mike Squadron -- where we were given an encouraging welcome by senior officers.
What is your daily routine at the academy?
We are up and ready by 5:30 am and then head for our 6:20 am class, which depending on the day could be PT, drill or games. Then we have our breakfast; it's good (he laughs). At 9 o'clock sharp our academic classes start and continue up until 3:20 pm. I have taken up BSc Computers. After that we play games; there's horse riding, swimming, shooting, boxing, football, basketball -- it's compulsory to play two games. Then from 6:30 to 8 pm, we do self study.
Sounds like a hectic routine, don't you get tired?
Initially, I used to, but then I got used to the routine. There are challenges everywhere. When I joined the NDA three months back I used to think the routine was tough, that every day was an obstacle but now when I look back, it seemed as though it was so easy to go through it. You find the mental toughness to cope with it. The academy makes men out of boys!
Besides, if you have to serve the country you better be tough.
Do you see any changes in yourself in the past three months?
I see a big change in myself. I am more confident, expressive, and feel I can deal with any kind of problem. The exposure here has given me a wider perspective of things. Before I joined, I felt protected by my parents.
The news of your selection would have been an emotional moment for them...
They were sad that I would be leaving but were proud of me at the same time. My parents have always supported my decisions. I do miss them; and call them up every Sunday and talk for as long as I want.
Why did you opt for the Indian Navy?
I was born and brought up in Thiruvalla, Kerala, so I have been around, in and out of water all my life.
Did you take any coaching for the exam?
I took coaching only for the Service Selection Board (SSB) interview, not for the written test. The ICSE board syllabus helped greatly in preparing for the entrance exam. But as I wasn't very familiar with the SSB selection process, I took coaching for five days. This prepared me in terms of what to expect at the SSB interview.
Any exam tips for aspiring students?
Read newspapers every day. It will help in building your general knowledge. I used to read The Hindu regularly. Proficiency in English is essential. As for the SSB interview, all I will say is be yourself and not someone you are not!
Anything that you would like to say to young men out there?
Don't join the forces for the money. Join for the need to serve the nation. That salute, that respect you get as an officer is priceless! Every young man should join the forces.