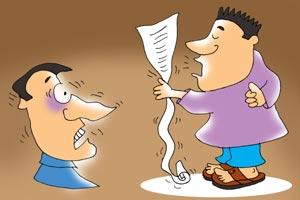 You may think using phrases like 'good communication skills' and 'proven track record' make your resume more appealing, but it's sometimes these cliches that set you back in the race to your dream job. Illustration: Uttam Ghosh
You might be a self-motivated worker and even a team player, but writing these on your resume does more harm than good to your chances of getting a job.
There are five popular catch phrases that should never make it into your resume, reports CBS News.
Talking on The Early Show on Saturday Morning, career adviser Liz Ryan, CEO of AskLizRyan.com, spotlighted the things you shouldn't call yourself on a resume -- at least, not without backing up the description with concrete examples.
In fact, she said that those examples could speak for themselves, without your actually using the terms you should avoid.
Ryan said that the underlying idea in writing a resume is to stand out, and using terms everyone else does hardly accomplishes that.
Revealing some of the typical or cliche phrases used in resumes, Ryan said: "'Results oriented professional' is probably the biggest one used, and it's meaningless! You're talking about yourself, so why go into this weird robotic language that doesn't describe much about you? For example, you might say, 'I got into journalism, because l like to tell compelling stories'. But you wouldn't say 'I have a proven track record in the newsroom.'"
"Lines such as: 'Bottom line-orientated,' 'proven track record of success' (as opposed to a proven track record of failure?!) are SO redundant. Yes, employers are looking for qualities like those, but it's not telling them this. 'Proven track record?' It's proven because it's a track record and of course it's successful, because why boast about failures? So they don't describe you."
"Don't just tell someone you're special, give examples of what you do and what you enjoy. Anyone who says he or she has 'excellent communication skills' evidently doesn't! Because, if you had them, you wouldn't use trite words to describe those skills," she added.
When asked how should one better describe his or skills, she said: "It should be done in teeny-tiny mini-stories. Instead of saying strong communication skills, say you built the company's newsletter from scratch. That fits within a bullet point and it says a lot about you. And the phrase built from scratch is colloquial, so employers like that because it says you're comfortable in your skin. It's better to tell a little story that is more colourful than just a regular cliche. It's grabbier than the common and trite phrases."
"Saying you 'work well under pressure' as a journalist in a newsroom isn't as smart as saying 'kept calm during daily coverage of earthquake crisis' -- that way, prospective employers see it in their head, and that makes it graphic, visual, and they want to meet you. You're coming through the language on the page. So again saying you're 'financially savvy' won't be as effective as saying 'spent four days tracking down a financial leak'. Using that approach is more of a right brain approach (as opposed to the left brain): It makes your heart beat faster and gets an emotional reaction to your skills," she added.
Ryan further said: "Instead of saying mundane lines like 'excellent working with customers,' we can say 'saved our biggest client who was ready to leave'. It's not stating you have potential ability, it's giving concrete examples of when your skills have worked. Don't say you have 'strong negotiation skills' -- give examples of things you have already done.
"You really have to do the work -- make the world's shortest story about yourself. It cannot be a paragraph, but it starts by not standing back and saying what you think of yourself. Employers read all the time: 'My friend says "I use my time effectively, I'm a team player,' etc. Tell what you did already."