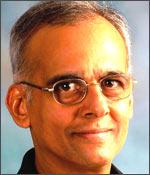 Andrologist and microsurgeon Dr Sudhakar Krishnamurti will be responding to rediff readers' sexual queries on a regular basis.
We invited Get Ahead readers to mail in their questions. Here is the next set of responses:
---
Sir,
I am a 43 year old healthy man and have been sexually very active. Recently I have had difficulty in maintaining an erection during intercourse 2-3 times. A few days before that during a routine ultrasound, I was told that I have a slightly enlarged prostate, which my doctor described as mild and said that it was most probably due to excessive sex. Now I have noticed that although I have not had this erection problem, I ejaculate very soon and I have an undercurrent in my mind that I may lose my erection any time.
I wish to add here that I am on BP medication (Stamlo Beta daily) since the last 7-8 years. When I was started on the medicine, I also faced a similar problem but my GP changed the medicine and gave me one Testoviron injection and I have been normal ever since.
Please advise as I do not wish to take any OTC medicines for this problem which I now feel is limited to premature ejaculation. I have sex almost every alternate day.
Tajpal Singh
If the erectile insufficiency has occurred just two or three times, it could be a passing phase. However, if it persists, and your erections don't really get better soon, one has to look for causes. Late onset hypogonadism (andropause) can also rear its head at this age. Fifty two percent of men over the age of 40 will suffer from erectile dysfunction (ED). Beta blocker drugs, given commonly to treat high blood pressure, are most notorious for causing ED (impotence). One Testoviron injection cannot make you 'normal' except through just a placebo (psychological) effect. Your premature (early) ejaculation (stated to affect nearly 70 percent of all men) will require separate investigation. Sometimes, premature ejaculation results from non-psychological causes, eg prostatitis. It is best that you undergo an andrology work-up.
---
Sir, I have the following queries, as I am an unmarried 28-year-old male:
1. My foreskin is tight. Will this effect my marriage life?
2. First night how to control ejaculating early? Can I use any spray or other medicines? If yes, please suggest.
3. What is the minimum time a lady takes for orgasm? How do I know she has gotten an orgasm?
Regards,
Ullas
Dear Ullas:
1. Your tight foreskin will definitely affect your married life because it will become even tighter when the penis becomes erect and rigid and the foreskin skin gets pushed backwards during attempted sexual intercourse. In addition to this, the glans of the penis (the part under the foreskin) is sexually the most erogenous (pleasure-experiencing) part of the penis. This erogeneity also helps sustain and maintain the erection till the end of intercourse through a feedback loop. And lastly, a tight foreskin is unhygienic and leads to the accumulation of a foul-smelling cheesy material (called smegma) underneath it. This has been identified as a cause of penis cancer. A circumcision operation will solve this.
2. There is no need to control anything before the 'first night' except your anxiety. Even dogs and donkeys copulate successfully without sprays and medicines. You must look forward to your first sexual experience with eager anticipation and excitement rather than trepidation, which will only affect your performance adversely. If you get good erections already, there is no reason to believe that you won't get the same on your wedding night.
3. A woman who has an orgasm knows she's had one. The time taken by a woman to attain orgasm is variable. Many women do not attain orgasm at all during intercourse, or attain orgasm only with certain specific kinds of stimulation. The former usually occurs because of the partner's sexual ineptitude and ignorance. Open uninhibited communication and premarital sexual health education can help with the latter. I recommend you read my book, Sexx is Not a Four-Letter Word (www.sinaflw.com). It has been recently nominated for the SSTAR International Award, USA, 2010-11, for the best book on sexual health education for the general public, and can be purchased online. For additional information, you may write to andromedaandrology@gmail.com
---
Hello Dr,
I have been suffering from semen discharge after urine (it's a white-coloured thick and sticky fluid). I had visited doctors before and they assured me that this is normal at this age. I always have a feeling that the fluid always remains in the shaft and I can see it on my underpants even if I have not urinated. No tests have been conducted as to what exactly that white fluid is? I am in the habit of masturbation (at least once a week). Never been with a woman, but very high sexual drive.
Thanks
Until proved otherwise, this sticky fluid you describe is physiological, and is discussed in detail in chapters 9, 11 and 39 of my book. Yes, but we first have to prove otherwise, especially so that you may be reassured. Get it examined at a good nearby lab. You must also undergo an andrology check-up just to be sure that you do not have prostatitis or some other pathology.
---
Dr Sudhakar Krishnamurti is an international award-winning andrologist and microsurgeon. He is the only Indian on the world's first-ever batch of sexual medicine fellows (Oxford, 2007). Best known for the Krishnamurti Operation for Peyronie's Disease, he is also the founder of Andromeda, India's first andrology center, and author of the book Sexx is Not a Four-Letter Word. Click here to purchase the book from rediff Shopping.
Disclaimer: Please note that Dr Krishnamurti will be answering the most relevant queries at his discretion each week. His advice may not necessarily reflect the opinions of rediff.com and while it is in the capacity of professional medical counselling, it in no way should be considered an alternative to visiting a medical specialist for sex-related ailments.