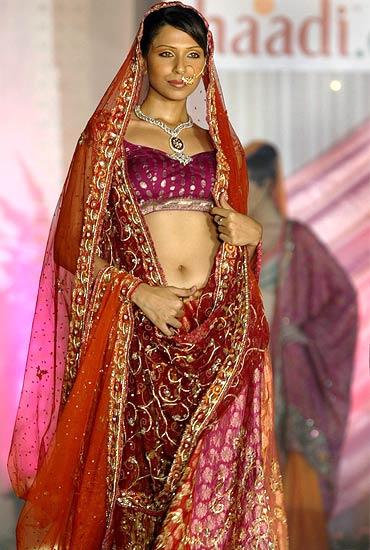 What did you wear on your wedding day? Show us your treasured bridal outfit!
Another week, another multi-million dollar wedding. On July 31 Chelsea Clinton (the daughter of former US president Bill Clinton and present Secretary of State Hillary Clinton), got married in a ceremony that was nothing short of royal to her longtime love Mark Mezvinsky.
And we're guessing most women are dying to know what she wore. Well, it was a stunning, strapless white empire-waisted gown by world-renowned designer Vera Wang, complete with a crystal-embellished belt and tulle train.
Before you start humming Here Comes the Bride and start reminiscing about your own special day, however, here's a thought -- how about offering us a glimpse of your wedding ensemble?
Whether it was an extensively embroidered lehenga, a crystal-encrusted gown or something in between, we want to see what you wore when you got married. And yes, we'll publish it right here!
Simply e-mail in a photograph of yourself wearing your breathtaking bridal to getahead@rediff.co.in (subject line: 'My wedding dress'), along with a brief description -- where you bought it, what kind of embellishments were used to give it that unique look and why you fell for it in the first place.
You can also upload a video of your bridal attire! Simply:

And be sure to e-mail us your video link.
Image: Used for representational purposes only
Photograph: Punit Paranjpe/Reuters