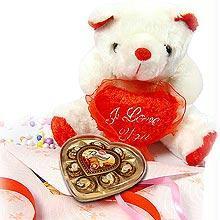 We've been over it a dozen times -- Valentine's day, the romantics versus the moral police, Indian culture versus Western...
But the fact remains that those who wish to, celebrate Valentine's Day anyway and those who don't keep kicking up a fuss about it year after year.
As each year comes and goes, however, there is more expenditure associated with the day of love. Because love isn't love without chocolate, flowers, the sweet scent of perfume and a romantic candlelit dinner.
Or is it?
We're moving from flowers to figurines, chocolates to jewellery, a dinner to exotic travel. Retailers and merchants across the country are going into overdrive with their special VDay offers for couples and the consumer is simply lapping it up.
So much so that a housewife who may have expected nothing more than a bunch of flowers and a peck on the cheek five years ago wants a solitaire pendant today. And every couple celebrates Valentine's, in however small a way. But doing nothing at all? It's unheard of.
We want you to weigh in on this issue. Do you think Valentine's Day is becoming too commercial? Take our poll and let us know. You can also leave your comments on the messageboard below.